30 April, 2016
Every Day Cleaner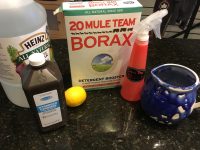 Posted in :
DIY Cleaners
on
by :
Nicole
Back in the day, i saw an Ignite presentation by Kia Ruiz on how amazing vinegar was as a cleaner and even more! This eventually started me on this crazy downward spiral into making all of my own cleaning products and more!
The internet is full of different options and ways to make things that you can use to clean, and it's a rabbit hole i have fallen down and am always find new things i can make instead of using something with chemicals.
I have even gone so far as to start teaching a dabble class on the topic!
But to start you down the path to less chemicals in your home…  here is a really cool all purpose cleaner.
Honestly the easiest all purpose cleaner is vinegar in a spray bottle! I have a couple of those around, will spray them on counters, stove tops, door handles, etc…
But if you want a little more oomph..  here is one that if found and i love it!
This little combo makes a great cleaner for everything – kitchen counters, bathroom sinks, stove tops, everything!
Ingredients
1

tablespoon

hydrogen peroxide
Directions
Measure and add the Borax to a mixing bowl, and cover with the hot water. Whisk until fully disolved.
Measure and add the hydrogen peroxide, vinegar, and lemon to the bowl. Give the mixture a gentle stir.
Pour the cleaner into the spray bottle
Tips
To make it your own, add a sprig of rosemary, or some essential oil. Personally i just like it as is!