11 June, 2017
Saag – in the crockpot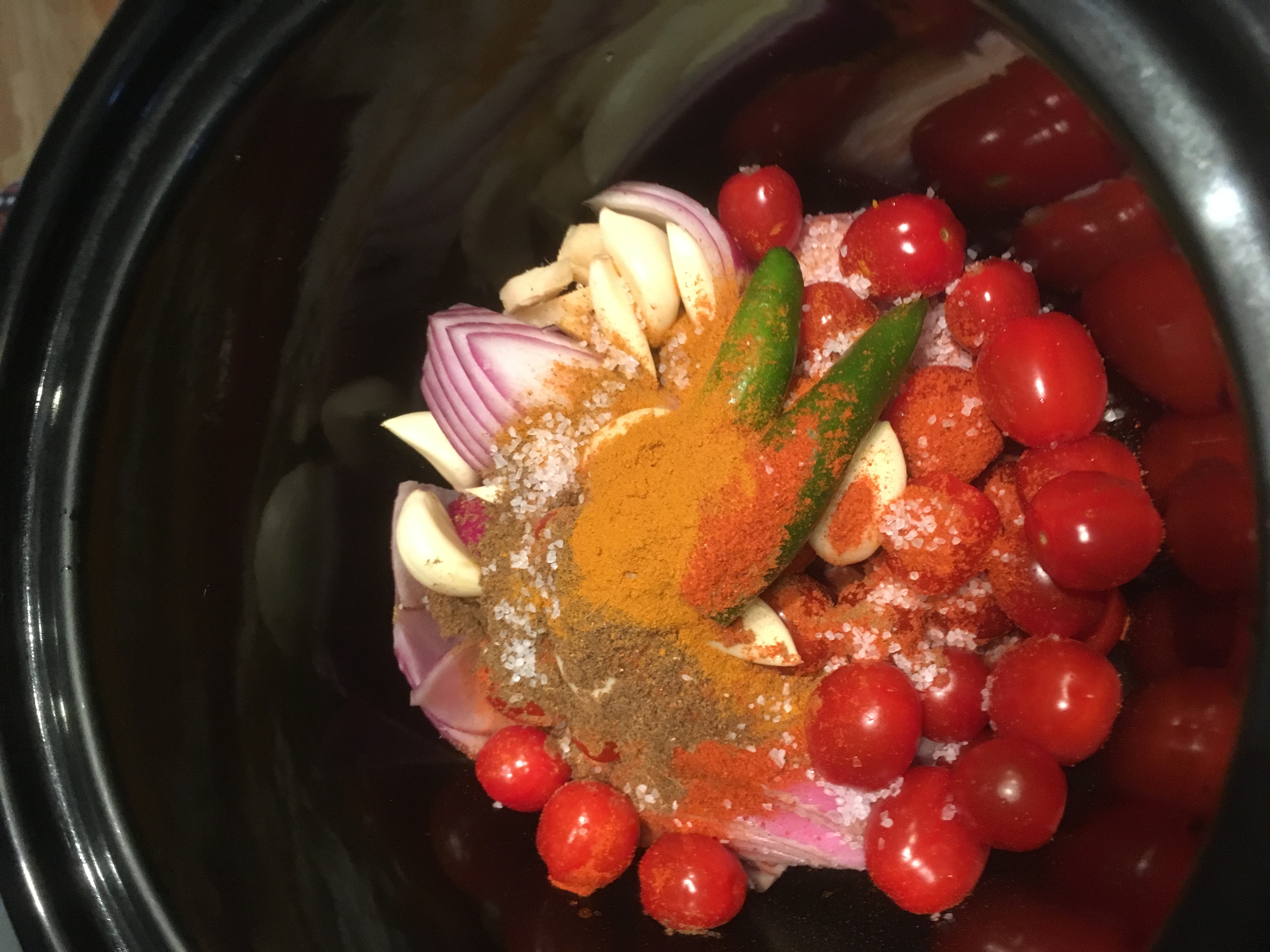 Comments : 2 Posted in :
Crockpot
,
Pre-prep
,
Veggies
,
Wheat Free
on
by :
Nicole
Generally known as Saag Paneer when you eat out – since i didn't have any milk in the house, it was just saag or (curries spinach for those not up on their indian menu terms)
This was from one of my fav cookbooks – The Indian Slowcooker! Most make a ton, so i usually use the "this is how to cut this recipe in half" feature!
Lessons learned:
Serrano peppers are larger and can end up hotter than thai chilis
7 cherry tomatoes are not equal to 1 roma. (tomatoes all evened out as far as taste, but less would have been fine as well)
Tools:
4 quart crockpot (this is halved, use a 6 quart and double it if you have more people to feed)
Immersion Blender – so amazing for smoothing out soups without the danger of transferring to a blender!
Saag
2017-06-11 11:49:52
Serves 5
A delicious and healthy "creamy" dish!
Ingredients
1 pound fresh spinach

1 yellow onion (or red) - peeled and roughly chopped

1 1/2 medium tomatoes (or 10-15 cherry tomatoes)

2 inch piece of ginger, roughly chopped

10 cloves are garlic

2.5 to 5 thai chilies - 1/2 or 1 serrano - 2 was too hot. Stem removed

2 tlb ground cumin

1/2 heaping tbl cayenne

1/2 heaping tbl garam masala

1 tsp tumeric

1/2 tbl sea salt
Add ingredients to shopping list
If you don't have Buy Me a Pie! app installed you'll see the list with ingredients right after downloading it
Instructions
Put spinach, onion, tomato, ginger, garlic, chiles, cayenne, garam masala and tumeric in the slow cooker. (as long as the spinach is washed, no need to remove stems!)
Cook on high for 3 hours. Stir once or twice and push down any spinach leaves that stick to the side)
Blend until smooth with an immersion blender.
Add Sea salt and cook on low for 2 hours
At this point your saag is complete. If you have paneer or make paneer add it. (let it sit for 10 min in the saag, before eating. Turn off slowcooker)
Another option is tofu - chopped or fried.
Notes
Choose your chilies per your heat preference. I love hot stuff, but 2 serranos was too much for me!
I ended up making a fake riata - as i had no greek yogurt - with sour cream, chopped cucumber and ground cumin to cool it down.
Print
Adapted from The Indian Slowcooker
Adapted from The Indian Slowcooker
Lazy Bear Foods https://lazybearfoods.com/
Verdict – i thought this was delicious! Assuming it will freeze well!
Excited to make it less spicy next time, and pan fry up some tofu to enjoy with! Love getting all the veggies!
As far as pre-prep – you made this on your prep day and just put it in the fridge for reheating later in the week. Sounds like a win win to me!
2s COMMENTS