14 September, 2016
Jalapeno Beer Bread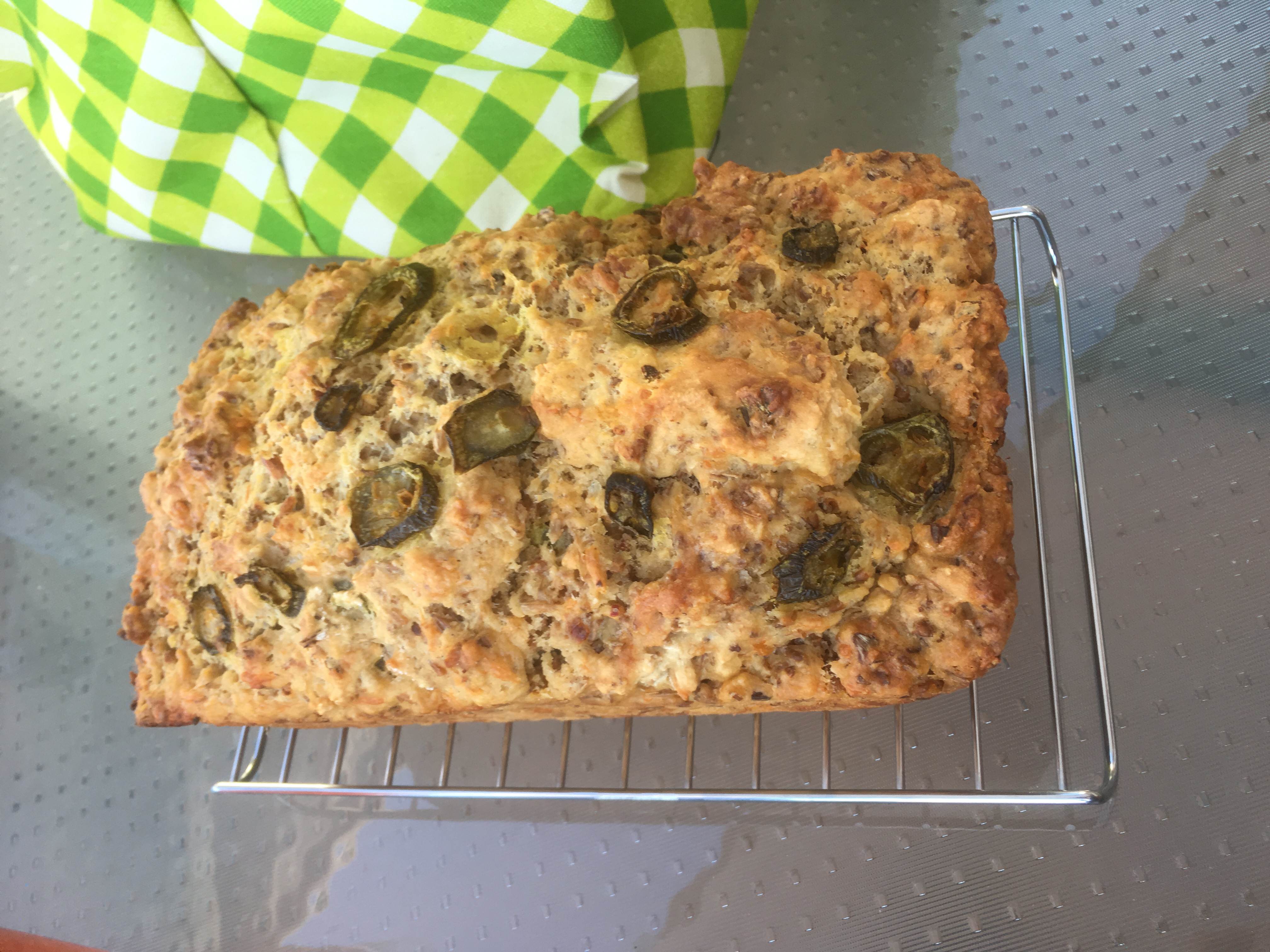 Comments : 2 Posted in :
Bread
,
Recipe
on
by :
Nicole
This little ditty has been in our repertoire for nearly forever!
I originally found this recipe because we had a tremendous amount of beer that we were not going to drink.
I went through all kinds of types of recipes and this was by far the best one. It made it unnecessary for the dough to rise, and you could have fresh bread in under an hour. Win win as far as i was concerned.
I have another beer bread recipe for fancier types of occasions, but this one is a basic yummies! And i was able to expand the recipe to also be able to be made with spent grain – and omg!!
Jalapeno Beer Bread
2016-07-19 19:42:22
Serves 2
An amazingly easy bread recipe! Totally adaptable to what you have in the house!
Ingredients
1 tablespoon olive oil

1 cup diced onion

3 cups all-purpose flour (about 13 1/2 ounces)

3 tablespoons sugar

2 teaspoons baking powder

1 teaspoon salt

1 cup (4 ounces) grated cheddar cheese

1 (12-ounce) bottle beer (such as amber ale)

Jalapenos (optional)

Cooking spray

1/4 cup butter, melted and divided
Add ingredients to shopping list
If you don't have Buy Me a Pie! app installed you'll see the list with ingredients right after downloading it
Instructions
Preheat oven to 375°.
Heat olive oil in a large nonstick skillet over medium heat. Add onion, and sauté 6 minutes or until tender. Cool to room temperature.
Lightly spoon flour into dry measuring cups, and level with a knife. Combine flour, sugar, baking powder, and salt in a bowl; make a well in center of mixture. Add onion, cheese, and beer; stir just until moist.
Spoon batter into a 9 x 5-inch loaf pan coated with cooking spray; drizzle evenly with 2 tablespoons butter. Bake at 375° for 35 minutes; brush with remaining 2 tablespoons butter. Bake an additional 23 minutes or until a wooden pick inserted in center comes out clean. Cool 5 minutes in pan on a wire rack; remove from pan. Cool completely on wire rack.
Notes
Can go as complex or easy as you want. I've done this recipe with just jalapenos and cheese, no onions, no frying... I've also used pickled jalapenos and even ones from a jar! It's all yummy!
Print
Lazy Bear Foods https://lazybearfoods.com/
I love love love this recipe!
Other Options:
The CL site offers a number of options of how to change up the bread.
I did one more by adding 1 cup of spent grain and cutting the sugar to just 1 tablespoon. And definitely cook for the whole time, actually 35 more is best! Without the spent grain you only need to cook it for the first 30 minutes.
Serving/Eating Options
We have eaten this straight out of the oven
We have toasted it
We have toasted on a grate over the camp fire
We have toasted it in a fry pan
We have eating with butter
We have eaten it with honey butter
We have eating it as french toast
We have eaten it plain…
It really is that good.
2s COMMENTS