23 August, 2016
Buttermilk Strawberry Gelato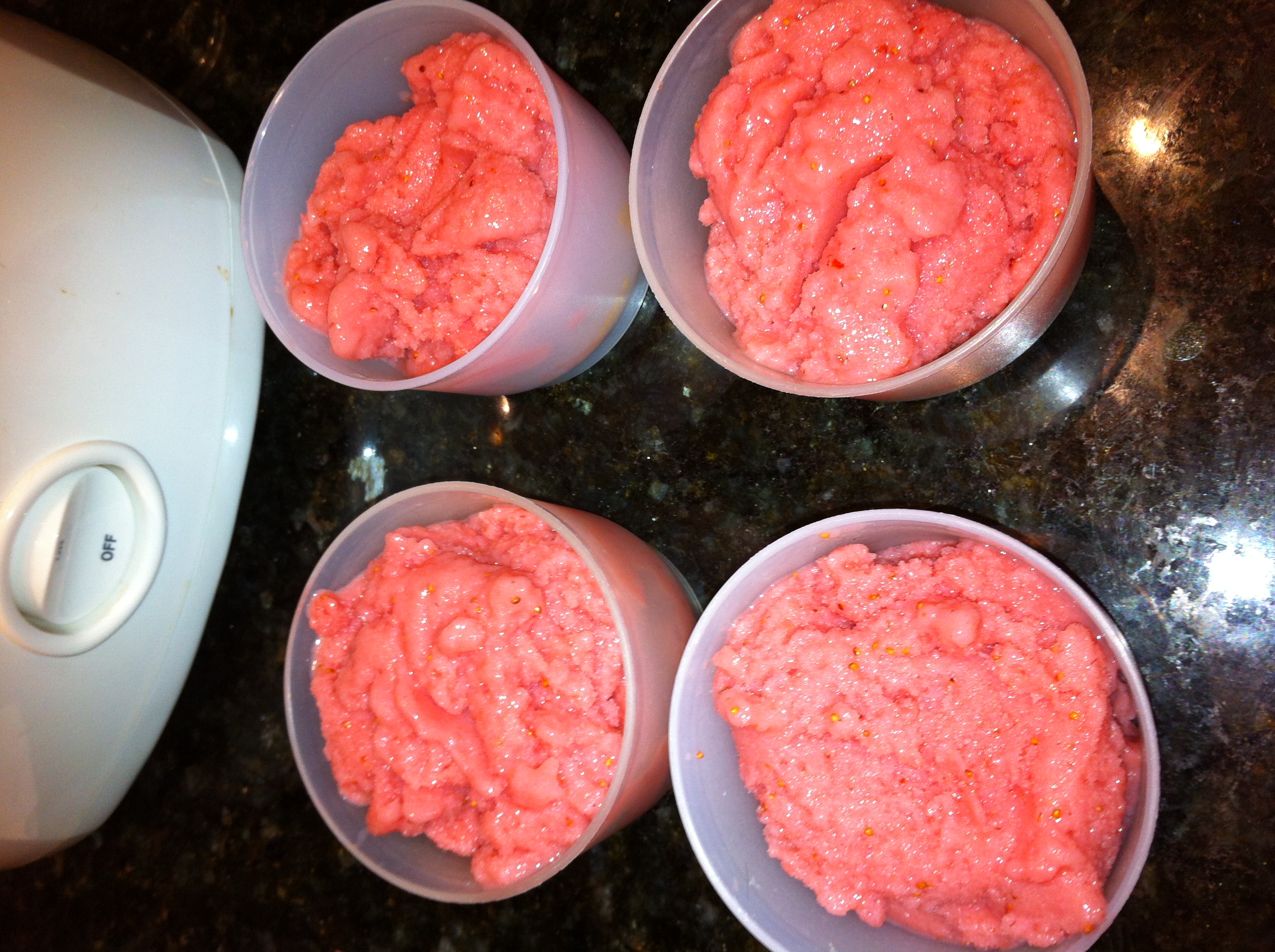 Posted in :
Dessert
,
Pre-prep
,
Recipe
on
by :
Nicole
Back in the day when i moved in with the mister he had 2 ice cream makers.
Yup
One was the old school with the rock salt
The other was one i actually let him keep – which was an electric one with a frozen innards.
But i put my foot down on making ice cream with heavy cream… if we want real ice cream we do the 2 mile walk to the fancy place across town!
So when i found some yums on CL, i knew it was one we had to try and it has been in our summer repertoire ever since
Strawberry Buttermilk Gelato
2016-08-22 16:21:40
Serves 15
Amazing desert, good amount of sweet, and cold!
Ingredients
2 cups sugar

2 cups water

5 cups quartered strawberries (about 4 pints)

2 cups low-fat buttermilk
Add ingredients to shopping list
If you don't have Buy Me a Pie! app installed you'll see the list with ingredients right after downloading it
Instructions
Combine sugar and water in a large saucepan; bring to a boil, stirring until sugar dissolves. Pour into a large bowl; cool completely.
Place strawberries in a blender, and process until smooth. Add strawberry purée and buttermilk to sugar syrup; stir to combine.
Pour the strawberry mixture into the freezer can of an ice-cream freezer, and freeze according to the manufacturer's instructions.
Notes
This recipe makes 2 rounds, so either half it or have 2 nights of joy!
Print
Adapted from Cooking Light
Adapted from Cooking Light
Lazy Bear Foods https://lazybearfoods.com/
Start with about 2 quarts of fresh strawberries – and give them a nice wash. I love
veggie wash
for this – but will be making my own fruit washing solution when i run out of that…
Next up the slicing and coring of the berries
Making the simple syrup!
Combine the simple syrup, blended berries and buttermilk – i use the powdered buttermilk and add it to the berries and just add plain water to the berry and syrup mixture!
And then – gelato!
Pre-prepping tips:
Make the simple syrup (sugar and water)
Wash and slice the berries as it cools.
combine the sugar water and the berry mixture
Put it all in the fridge until you are ready for fresh gelato!
Day of:
Pull the ice cream container out freezer, make your gelato. Start it about 30 minutes before you want desert!
Store extras in single serving containers.

Allow to defrost on the counter for 30 minutes before eating.