2 June, 2016
Spicy Flank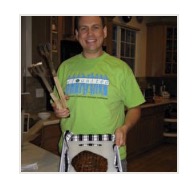 Comments : 2 Posted in :
Flank Steak
,
Meat
,
Pre-prep
on
by :
Nicole
This recipe is one of the oldest recipes from the marriage with my hubby.
We love this recipe!
We upped the heat from the original, about twice, and doubled the sauce to have enough for dipping the finished product.
Spicy Marinade, Basting Sauce and Dipping Sauce! I've upped the heat and doubled the sauce
High cal
Calories

479kcal
High fat
Total Fat

31g
High sat-fat
Saturated Fat

9g
High chol
Cholesterol

85mg
High sodium
Sodium

1810mg
Low carbs
Total Carbohydrate

9g
Serving size
192g
Calories from fat
278kcal
Fiber
1g
Protein
38g
Sugar
7g
Ingredients
2

tablespoons

brown sugar

2

teaspoons

Seasoned Salt

1 1/2 – 2

teaspoons

red pepper

flakes

1/2

teaspoon

Garlic Powder with

Parsley

1

teaspoon

Worcestershire sauce

2

tablespoons

red wine vinegar

1 – 1 1/2

pound

flank steak

, scored across the

grain

on both sides
Directions
Combine all ingredients except steak. Separate into 3 different containers – a smaller portion for basting (1/4 cup approx) , 1/2 the rest for dipping sauce, the rest for the marinade.
In large resealable plastic food storage bag or marinator container, add the steak and the marinade portion. 
Marinate in refrigerator at least 1 hour (I usually do it overnight).
Remove steak from marinade, discard marinade. Grill or broil steak until desired doneness, about 10-12 minutes, turning once and basting often with additional 1/4 cup marinade.
Do not baste during last 5 minutes of cooking. Discard any remaining marinade.
Thinly slice steak on diagonal across the grain.
Pre-prepping tips:
There are 2 options for this pre-prepping – one the week of, and one where you can put it in the freezer for future use. Both require the sauce to be completed first.
Make the marinade:
Combine all the ingredients:

2 tablespoons brown sugar
2 teaspoons Seasoned Salt
1 1/2 – 2 teaspoons red pepper flakes
1 teaspoon paprika
1 teaspoon chili powder
1/2 teaspoon Garlic Powder with Parsley
1 teaspoon Worcestershire sauce
1/4 cup veg oil
2 tablespoons red wine vinegar
2 tablespoons sherry
2 tablespoons soy sauce
Separate marinade into 3 containers

1/4 cup for basting
1/2 of the rest for marinating
the rest for dipping the cooked meat
Prep the steak

I freeze my steaks right after i return from costco – it is easier to cut the steak when it is frozen or has spent time in the freezer
Slice the steak against the grain, just a smidge into the steak, enough the let the marinade in.
Do again on the other side
Option 1- Pre-prep for the same week
In a bag or marinator container combine the steak and the marinade (this can sit for more than 24 hours and be fine)
Option 2 – Pre-prep as a freezer meal
In a food saver bag or gallon bag place the steak and the marinade
Seal the basting sauce and dipping sauce in separate bags.
Freeze flat.
When ready – defrost steak in marinator overnight. Defrost the 2 sauces separately as well.
Day of:
Remove steak from marinade, discard marinade.
Grill or broil steak until desired doneness, about 10-12 minutes (that leaves it pink in the middle and more done on the ends), turning once and basting often.
Side Dishes:
A nice spinach salad to place this on, makes summer seem magnificent! (and the extra dipping sauce is an amazing dressing – just sayin…)
Jicama fries
Mashed potatoes – or moc cauliflower mashed potatoes
2s COMMENTS