1 November, 2016
Flax seed crackers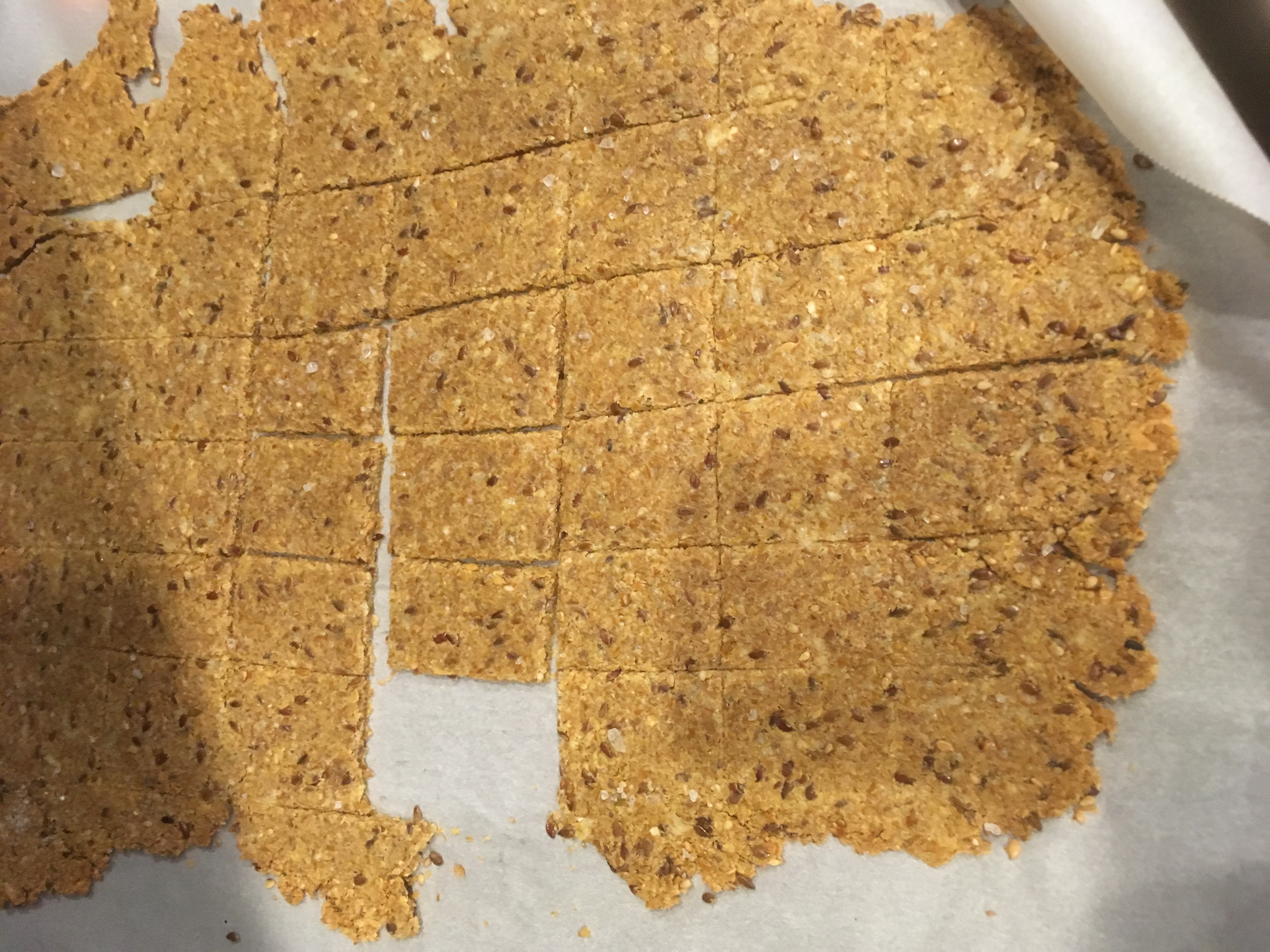 Posted in :
Appetizers
,
Bread
,
Wheat Free
on
by :
Nicole
I read the wheat belly books and really got intrigued by what you could use instead of the normal flours to keep your glyciemic index from spiking! I have made multiple different version of these crackers and i like them all very much! Change out the seed options and the spice options! So many ways to go with this recipe!
Flaxseed Crackers
2016-10-30 19:15:21
Serves 5
Ingredients
2 cup ground golden flaxseeds

3 tbsp whole flaxseeds or sesamee seed

½ cup parmesean cheese

1 tsp onion powder

½ tsp sea salt

1 egg

2 tbsp coconut oil or olive oil

½ cup water

1 tsp sea salt or spices for topping crackers
Add ingredients to shopping list
If you don't have Buy Me a Pie! app installed you'll see the list with ingredients right after downloading it
Instructions
Heat oven to 400 degrees
In a large bowl, combine ground flax seeds, whole flax seeds or sesame seeds, parmesan cheese, onion powder, and ½ tsp sea salt
In a med bowl whisk egg, oil and water. Pour into flaxseed mixture and mix thoroughly
Cover 2 baking sheets with parchment.
Spoon half the mixture onto each. Shape into loose ball. Cover with another piece of parchment and roll out to ⅛ thickness
Remove top layer. Sprinkle with sea salt or spices. Bake for 25 min. Or until center is firm.
Cool for at least 30 minutes.
Break by hand or cut with anpizza cutter.
Notes
Seed Options - used 2 tbsp sesame seeds, 1 tbsp chia
TJ carnberry crips - 1/2 cup diced dried cranberries, blood orange eve, 2 t/l chia seeds
Print
Adapted from Wheat Belly
Adapted from Wheat Belly
Lazy Bear Foods https://lazybearfoods.com/
This is such a fun recipe to make your own!! Change the seeds, update the spices, change the EVOO. So much fun and so many options!