22 May, 2016
Jalapeños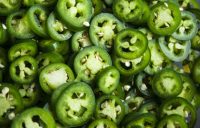 Posted in :
Appetizers
,
Veggies
,
Waste Not Want Not
on
by :
Nicole
I love jalapenos and hot peppers in my foods.
I tend to over buy! I get excited! 19 cents a pound – yes please!
I use as many as i can in my recipes and then…  bugger. I open the vegetable crisper and they are starting to get wrinkly…  ugh!
I've got a couple options on how to save them and give them more life!
The basic option:
Freeze them!
Note – they do tend to get a little limp and lose some heat, so keep that in mind.
I usually store the peppers, 1 per snack bag.
I do different types in each bag – some i slice, some i dice.
The best uses are:
Something in the crockpot, so more of the flavor can be leached out
Beer bread – sauteeing with onions, and adding to the batter works well, and the slices can go on the top
Instant gratification option:
Pickled Jalapenos!
I found this recipes as a side for nachos and they are a great way to elongate the life of your jalapenos.
A quick option for pickling jalapenos! Takes a smidge of the heat off, and are good for nachoes, sandwiches, or just snacking!
Low cal
Calories

30kcal
fat Free
Total Fat

0g
sat-fat Free
Saturated Fat

0g
chol Free
Cholesterol

0mg
sodium Free
Sodium

2mg
carbs
Total Carbohydrate

7g
Serving size
43g
Calories from fat
0kcal
Fiber
0g
Protein
0g
Sugar
7g
Ingredients
2

jalapeño peppers

, stemmed and thinly sliced
Directions
Combine first 3 ingredients in a medium microwave-safe bowl; microwave at HIGH 2 minutes or until mixture comes to a boil. Stir in jalapeño peppers. Let stand 25 minutes.
Other option:
Salsa!
Depending how many you have, this can be a nice recipe and a great way to add kick to other things!
I've found that my salsa can last for quite a while!
To be tried:
I found this recipe for candied jalapenos and i'll be trying it soon
This can also be done with other peppers – serranos, poblanos, green peppers, etc!
Just remember, these items are partially made out of water, so they do not reconstitute firm, but can be used – in – things!