3 October, 2017
Polenta Breakfast Bake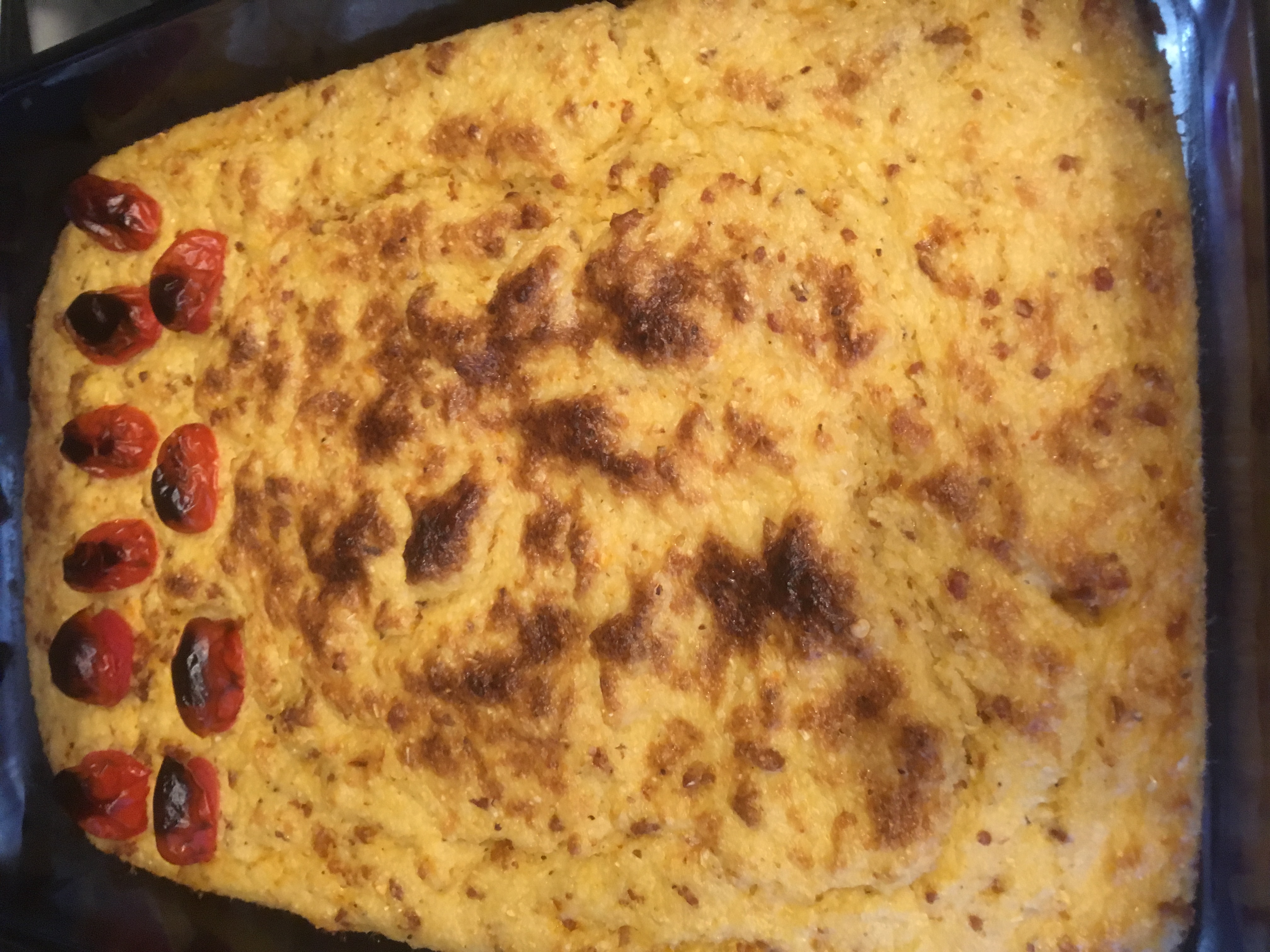 Posted in :
Breakfast
,
Pre-prep
,
Waste Not Want Not
on
by :
Nicole
In the spirit of multi-denomenational eating… Let's go gluten full!
This is a nice breakfast that can be made ahead or prepped the night before.
I use it a good way use extra sausages or flavors of sausages I don't like, throw in some veggies to make it "healthy"
Polenta Bake
2017-08-29 20:29:49
Ingredients
10 ounce diced chicken andouille sausage (or 3 spicy sausages)

1 onion, diced/minced

4 garlic cloves, minced

2 1/2 cups chicken broth

2 cups fat-free milk (almond/soy)

1 1/2 cups uncooked quick-cooking polenta

1/4 teaspoon salt

4 ounces cheddar cheese, shredded (about 1 cup)

1.75 ounces Parmigiano-Reggiano cheese, grated (about 1/3 cup)

2-4 tablespoons hot pepper sauce

4 large eggs, lightly beaten

Optional

Diced tomatoes

Spinach

Mushrooms
Add ingredients to shopping list
If you don't have Buy Me a Pie! app installed you'll see the list with ingredients right after downloading it
Instructions
Heat a large nonstick skillet over medium-high heat. Add sausage; sauté until browned. Add onions, and garlic; (and any optional vegetables) sauté 5 minutes. Remove from heat.
Bring milk to a simmer in a large saucepan. Reduce heat to medium-low. Stir in polenta and salt; (optional - red pepper flakes, other spices) simmer 7 minutes, stirring frequently with a whisk. Remove from heat. Add cheeses; stir until cheeses melt. Place the polenta mixture in a large bowl; let stand 15 minutes, stirring occasionally. Stir in pepper sauce and eggs. Add sausage mixture; stir well to combine. Spread polenta mixture into a 4-quart glass or ceramic broiler-safe baking dish coated with cooking spray. Cool to room temperature. Cover surface with plastic wrap; refrigerate overnight.
Preheat oven to 425°.
Uncover dish. Bake at 425° for 25 minutes or just until set.
Preheat broiler to high; remove dish while broiler preheats. Broil 2 minutes or until top is lightly browned. Let stand 5 minutes.
Notes
Add extra spice, the polenta seems to soak it up
Print
Lazy Bear Foods https://lazybearfoods.com/
Pre-prep for hte night before directions are in the recipe.
OR make the recipe straight, cut into 8 pieces, freeze each separately.
Reheat in a 200 degree oven, until warm.
I now love putting halved cherry tomatoes on my frittatas and oven bakes to have them char under the heat! Squee!