28 November, 2016
Turkey Vatapa Soup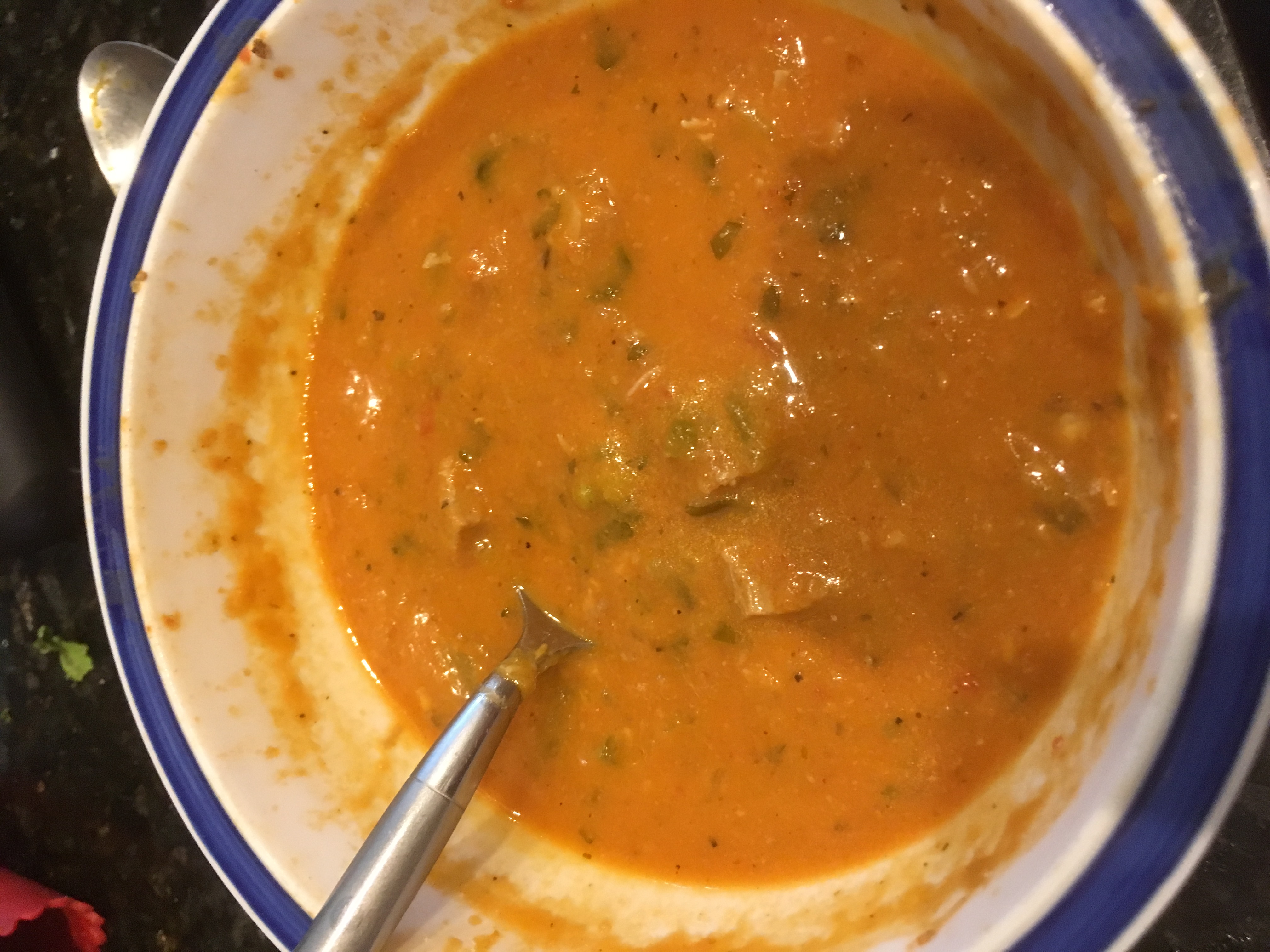 Posted in :
Recipe
,
Soup
,
Waste Not Want Not
on
by :
Nicole
I discovered this recipe years ago when i had a whole left over turkey breast from honey baked ham store, and some beer that we were not going to drink. This recipe filled the void perfectly!
I've updated and changed it over the years, but think it's a great way to use up left over turkey and beer!
Turkey Vatapa Soup
2016-11-27 21:04:16
Delicious way to use up the leftover turkey
Ingredients
1 teaspoon peanut oil

1/2 cup finely minced onion

3 garlic cloves, minced

1 tablespoon minced peeled fresh ginger

1 jalapeño pepper, minced

1 cup water

1 (28-ounce) can no-salt-added diced tomatoes, undrained

1 small can diced chilis

1 (12-ounce) can light beer

3 cups chopped skinned cooked turkey

1/2 cup light coconut milk (extra 1/2 cup to tame the heat)

1/2 cup finely chopped fresh parsley

1/2 cup finely chopped fresh cilantro

1 tablespoon fresh lime juice

1/2 teaspoon salt

1/2 teaspoon black pepper
Add ingredients to shopping list
If you don't have Buy Me a Pie! app installed you'll see the list with ingredients right after downloading it
Instructions
Heat oil in a Dutch oven over medium-high heat. Add onion and garlic; sauté 2 minutes. Add ginger and jalapeño; sauté 30 seconds. Stir in water, tomatoes, and beer; bring to a boil. Cover, reduce heat, and simmer 20 minutes.
Place peanuts in a spice or coffee grinder; process until finely ground. Add ground peanuts, turkey, and coconut milk to pan, stirring to combine. Increase heat to medium. Bring mixture to a simmer; cook 5 minutes, stirring occasionally. Stir in parsley, cilantro, juice, salt, and black pepper. Garnish with cilantro sprigs, if desired.
Notes
Mincing the onion and immersion blending the can of tomatoes to overcome the texture issue of the hubby! Also added a second 1/2 cup of coconut milk to tame the heat.
Print
Lazy Bear Foods https://lazybearfoods.com/
This recipes can be updated and expanded to include what you have in the house!
Different beers, adding diced chilies, etc.
I find getting the jalapenos and onions cooked fully help the soup to be best.