10 August, 2016
Baked "fried" chicken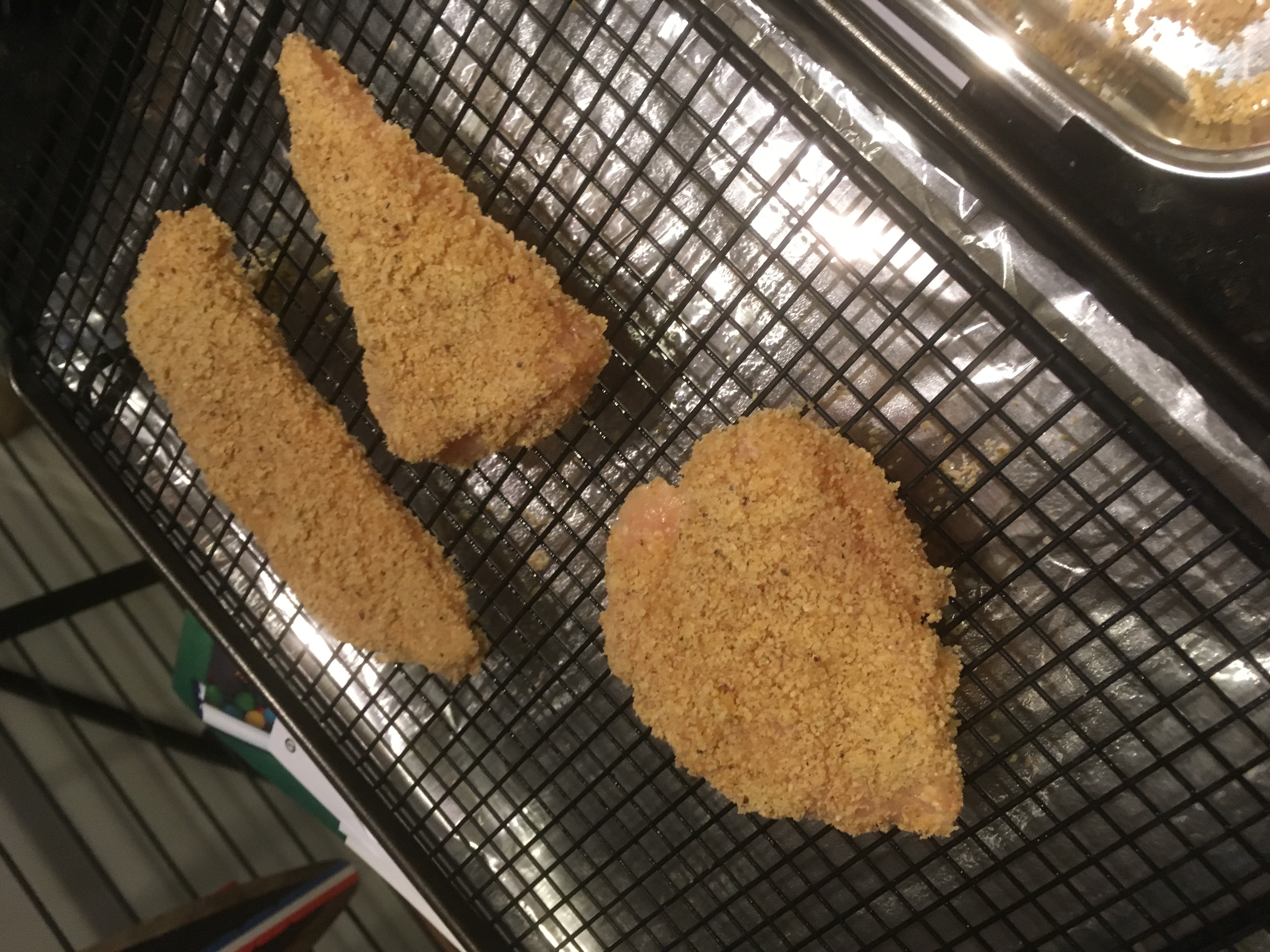 Posted in :
Chicken
,
Pre-prep
on
by :
Nicole
I had my bag of left over rice chips and knew i wanted to make a "baked" fried chicken, and could have sworn i had one saved… Alas i did not, so much searching took place, and i ended up with this one as a base.
I forgot to start ahead of time, so i had to wing it a smidge, but it all turned out ok!
I decided to make it wheat free since i had started with gluten free crackers, so i changed it up to use coconut oil spray and almond flour. It definitely needed some ranch and give it some umph, so i think brine-ing is a definite must next time!
Baked "fried" chicken
2016-08-08 09:16:44
Serves 2
A great way to have breaded chicken and use up your let over crumbs!
Ingredients
1 boneless, skinless chicken breasts, pounded to 1/2-inch thickness

1/2 cup almond flour

2 cups cracker/chip crumbs

1 teaspoon cayenne

1/4-1/2 cup egg whites
Brine
1 teaspoon paprika

1 teaspoon kosher salt

1/2 teaspoon freshly ground black pepper

1/2 teaspoon garlic powder

1/2 teaspoon onion powder
Add ingredients to shopping list
If you don't have Buy Me a Pie! app installed you'll see the list with ingredients right after downloading it
Instructions
Position a rack in the center of the oven.
Preheat the oven to 400°F. Spray a wire rack with coconut oil spray and place it in a roasting pan or on a baking sheet.
Place the flour on a plate.
Place crumbs on a plate
Combine egg whites and cayenne powder in a sided bowl
Dredge each breast with the flour until fully coated, shaking off any excess.
Then coat the chicken in the egg white mixture, followed by a dredging in the chip mixture.
Arrange the chicken pieces on the prepared wire rack. Bake for 15 minutes. Reduce the oven temperature to 350°F and bake until cooked through and crispy, 15 to 20 minutes.
Optional - turn on the broiler for the last few minutes
To make the chip/cracker crumbs
put them in a blender or i use my ninja to make a nice bread crumb consistency.
Egg white mixture
Add whatever you like to add flavor to the underlayer
Brine
If time allows, use a couple cups on water and the spices listed and let the chicken sit for a couple hours or a couple days
Print
Adapted from Well Plated
Lazy Bear Foods https://lazybearfoods.com/
Pre-prep
Pound the chicken thin and make the brine, i love to keep my chicken in it's brine for as long as i can!
Make the bread crumbs and store them in a sealed container/bag
Day of
Follow the recipe with most of your prep work done!
I think this would be fabulous with moc mashed potatoes and some green beans.
Alas the hubby isn't a fan of either – so we did some beer bread with honey butter and some corn and bacon soup. We are so not a standard family!
Pro Tip:
I use this set of breading pans to do my breading process. They connect for easy work or can be separate if you only need a couple! I love them and they can be tossed in the dishwasher!