29 October, 2016
Brie Potstickers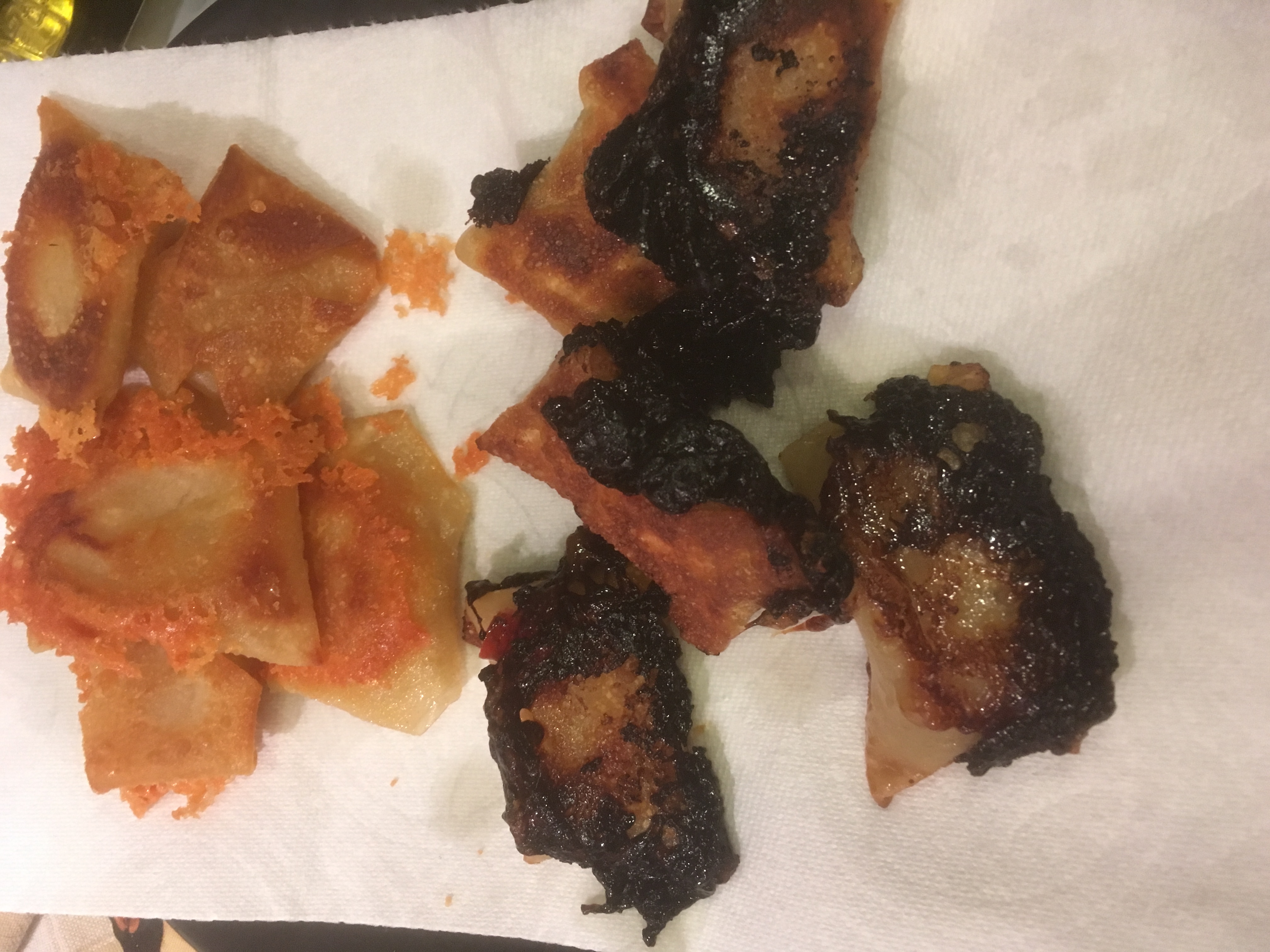 Posted in :
Appetizers
,
Dessert
,
Recipe
on
by :
Nicole
This was recipe that looked amazing on paper. But in practice… I definitely need more practice!
The outcome was definitely tasty, but most of the cheese got lost… in the pan.
I tried all different manner of doing the wrappers – lumpia version, gyoza version, crazy square version, traingle version, taquito version… The best is probably the gyoza with a stronger seal!
Cheese Potstickers
2016-10-19 19:56:27
Serves 2
So many delicious options with this basic recipe!
Ingredients
Different cheeses - brie, mozzarella

Other fillings - jalapeno jelly, raspberry jelly, jalapenos, etc

Water

Wonton wrappers
Add ingredients to shopping list
If you don't have Buy Me a Pie! app installed you'll see the list with ingredients right after downloading it
Instructions
In the center of each wonton wrap, place a dollop of cheese and any of the other fillings.
Using your fingers, lightly moisten the edges of the wrappers with water. Carefully fold the wrappers in half over the filling. Using a fork, press down on the edges to crimp and seal the potstickers. Transfer to a plate. (crimp very very very well)
In a large nonstick pan, heat the oil on medium-high heat until hot. Add the potstickers to the pan in batches, making sure not to overcrowd them. Cook on 1-3 minutes per side or until lightly browned. Remove to a paper towel-lined plate to cool slightly. Repeat with remaining potstickers. Serve warm.
Notes
The end result was less than perfect, but it was delicious, cheese in a wrapper. Make sure to seal the edges well.
Print
Lazy Bear Foods https://lazybearfoods.com/
This is a fun appetizer, or as we did, a saturday night dinner!
I'll definitely try this again, but find a way to get the wrappers sealed better! This isn't a bad failure, and it will be a pleasure to try, and try again!
(left is the brie, right is the jalapeno jelly)