21 November, 2016
Tingly Szechuan Beef and Noodles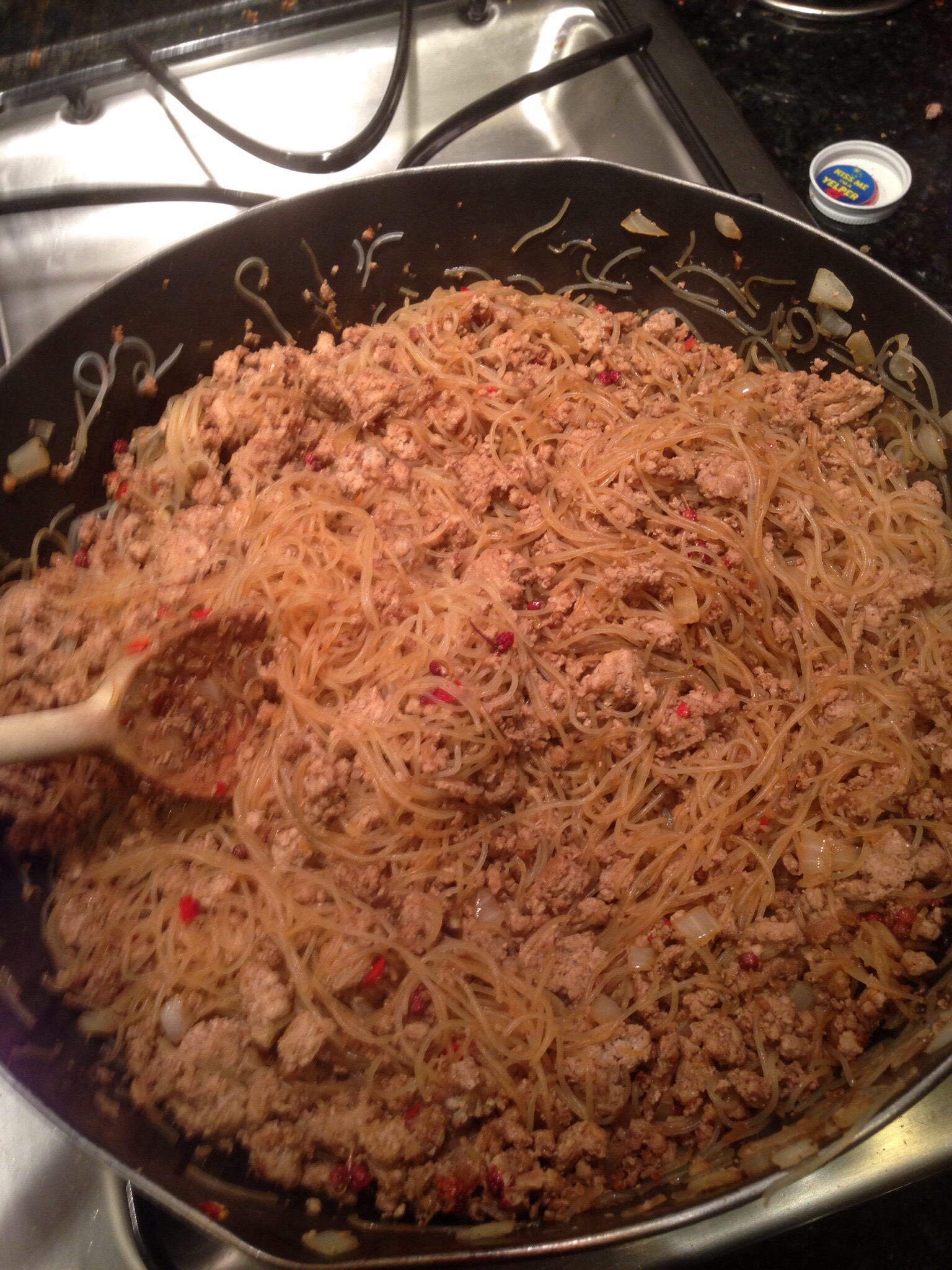 Posted in :
Meat
,
Pre-prep
on
by :
Nicole
This is another one of my favorites! We have done a bit of research and have updated the recipe to use thin pieces of beef vs the ground beef the original recipe called for.
We also updated the recipe to grind the szechuan pepper corns vs keeping them whole. The crunch, bitting down on one of those is a bit of a shock – so we tamed it a bit, by getting a coffee grinder and grinding the peppercorns before cooking.
The other update i generally do for my hubby is to mince the onions. If he doesn't know he's eating an onion, he's a lot happier!
Pro-tip – I use my microplane to "mince" my garlic and my ginger! Amazing and delicious! Learned this tip from a friend's mom who learned to cook in india as a girl and i love how it comes out!
Tingle Schezuan Pepper Beef and Noodles
2016-11-10 08:38:23
Ingredients
3 ounces rice noodles, cooked and drained

3 tablespoons vegetable oil

3/4 pound ground turkey ( or sliced flank or other thin beef)

1 onion, minced

1 small red chili pepper, such as Fresno, minced (or a serrano or jalapeno)

4 large cloves garlic, minced

1 1-inch piece of fresh ginger, minced

2 teaspoons Szechuan pepper

1 teaspoon Chinese five-spice powder

1/4-1/3 cup Tamari (dark soy sauce) or liquid amino (a gluten-free alternative to soy sauce and Tamari), such as Bragg brand

2 cups shredded iceberg lettuce

Chili oil or Sriracha, for serving
Add ingredients to shopping list
If you don't have Buy Me a Pie! app installed you'll see the list with ingredients right after downloading it
Instructions
Bring a pot of water to a boil, salt it, add the noodles and cook until al dente. Drain.
While the pasta is working, in a large skillet, heat the oil, three turns of the pan, over high heat until smoking. Pat the beef dry with a paper towel, then crumble it into the hot oil.
Add the onion, chili pepper, garlic, ginger, Szechuan pepper and five-spice powder to the beef. Stir fry until the onion is slightly softened, 2 minutes.
Add the noodles to the beef mixture. Stir in the Tamari (or liquid amino). Remove from the heat and toss with the lettuce and scallions. Serve with the chili oil (or Sriracha).
Notes
Use thin beef, brown first before adding onions
I like to use the PF Chang style table sauce on my beef.
I like to treat this as a topping for shredded lettuce!
Print
Lazy Bear Foods https://lazybearfoods.com/
Pre-Prep
chop/dice the onions – store in a sealed container (1/2 – 1 onion)
chop the pepper – can be stored with the onion or in it's own container
mince the 4 garlic cloves – can be stored with the onion and pepper or in it's own container
mince the ginger – can be stored with the onion, pepper and garlic or in it's own container
grind the peppercorns, if doing that (2 tsp)
Combine peppercorns with

1 tsp chinese 5 spice – store in a sealed container.

Lettuce – if you will be eating within a day or 2, slice the head of lettuce and store in storage bag or a tupperware.
Day-of
Follow the directions, but just enjoy having all the pieces already ready for you! Very quick to come together. Enjoy!
Suggested Sides
I always serve this dish with my PF Chang knock off sauce
Chili garlic, hot mustard, gyoza sauce – combine a bit of each to make the mixture and heat level to your liking. I don't have exact measurements, but generally a teaspoon (on you eat with) rounded of the chili garlic, enough gyoza sauce to cover it, and a half of a teaspoon of the hot mustard.
If you eat this dish with the suggested lettuce there is no need for a side in my opinion.