1 December, 2016
Potato Chip Cookies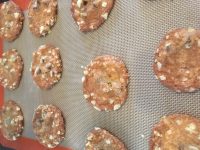 Posted in :
Dessert
,
Waste Not Want Not
on
by :
Nicole
It's a funny thing – when the hubby and i run a conference, we end up with random leftover stuff. Like a box of snack size chips – but only the flavor no-one wanted… plain lays…
Again – off to the internet for a solution. I had heard of people making potato chip cookies, so i researched a ton, and it came down to 4 different recipes and finally I combined 2 to get to what i thought was a great result. The main recipe was from martha, but i wanted to have some chocolate in there too!
Crushing all the chips is kind of fun and a great stress reliever
Rolling the balls of cookie dough in the crushed chips is weird.
Pro-tip – wet your hand to roll the dough
Lovely little guy, at the ready to turn into yummy goodness!
Whala! Definitely go for the 10 minutes, they don't spread too much, so there is room for those extra 2 at the bottom!
Potato Chip Cookies
2016-10-12 21:33:10
Ingredients
2 sticks unsalted butter, softened

3/4 cup packed light-brown sugar

3/4 cup granulated sugar

1 teaspoon pure vanilla extract

2 large eggs

2 1/4 cups all-purpose flour

1 teaspoon baking soda

3/4 teaspoon coarse salt

3 cups coarsely crushed salted potato chips (about 10 ounces), divided (or 8 little snack bags!)

1 cup chocolate chips
Add ingredients to shopping list
If you don't have Buy Me a Pie! app installed you'll see the list with ingredients right after downloading it
Instructions
Preheat oven to 375 degrees. Beat together butter and sugars with a mixer on high speed until fluffy, 2 to 3 minutes. Add vanilla and eggs, and beat on medium speed until just combined.
Add flour, baking soda, and salt, and beat on low speed until just combined. Stir in 2 cups potato chips and the chocolate chips.
Roll dough into 2-inch balls, and then roll balls in remaining potato chips to coat. Place cookies 2 inches apart on a parchment-lined baking sheet. Bake until golden, 10 minutes. Let cool completely on baking sheet.
Notes
Definitely didn't need the full 3 cups, 8 little bags were enough - and that was only about 2 cups.
The results are greasy!
Print
Lazy Bear Foods https://lazybearfoods.com/