7 April, 2017
Buffalo Cauliflower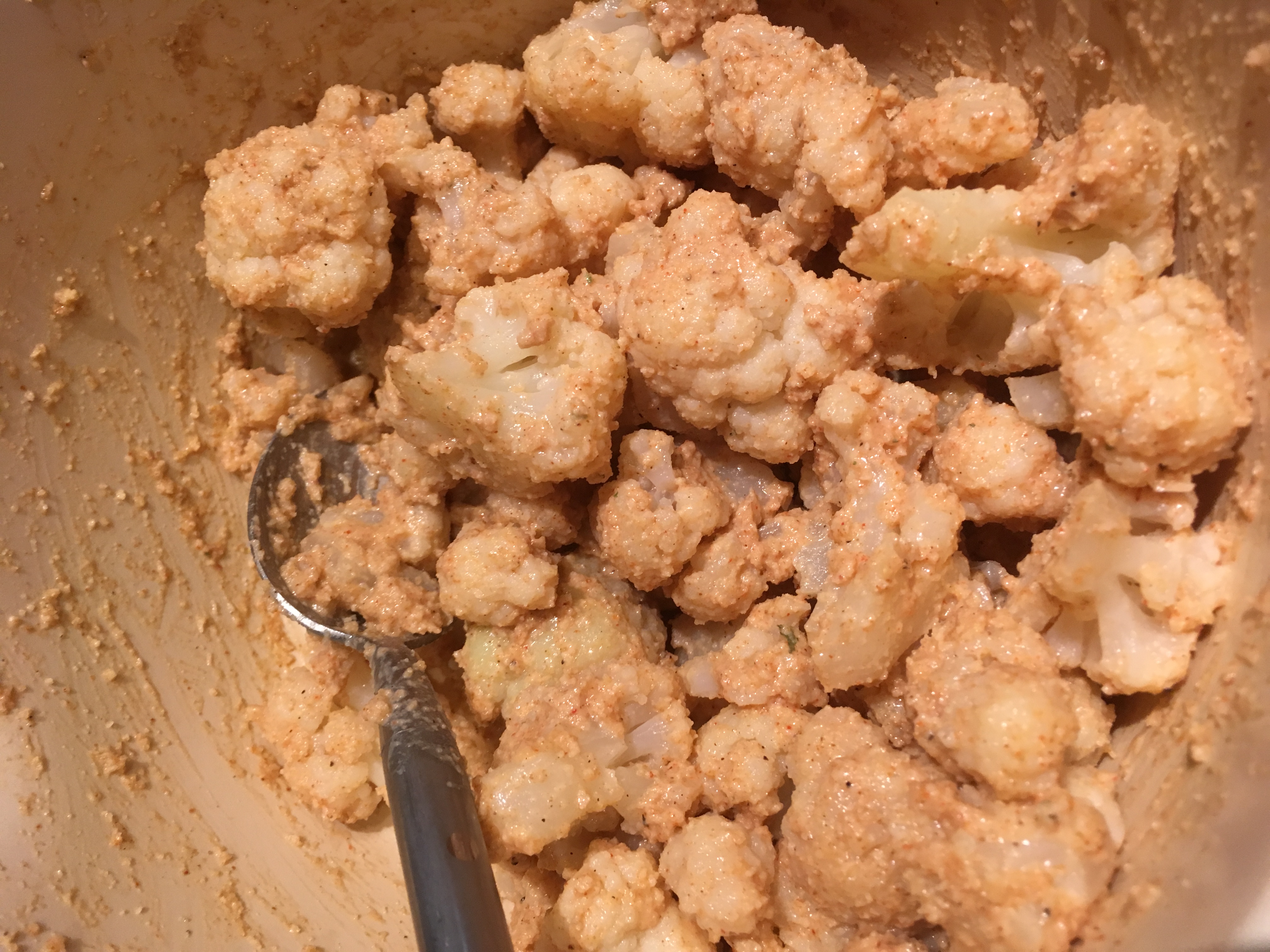 Posted in :
Veggies
on
by :
Nicole
I got a bug in my ear to make some buffalo cauliflower…
I looked up some recipes and ended up combining 2, and going with almond flour and almond milk to keep it wheat free!
This recipe ended up being higher calorie for a vegetable dish than i had hoped, but it's better for you than real wings – so i guess you take you savings where you can…
Buffalo Cauliflower
2017-03-27 19:19:00
A fun option to eat your cauliflower
Ingredients
1 head of cauliflower (approx. 4 cups of florets)

½ cup milk (for vegan: use water or almond or soy milk)

¾ cup all-purpose flour (can sub gluten-free rice flour)

2 tsp garlic powder

1 tsp cumin

1 tsp of paprika

¼ tsp salt

¼ tsp ground pepper

1 cup frank's red hot sauce
Add ingredients to shopping list
If you don't have Buy Me a Pie! app installed you'll see the list with ingredients right after downloading it
Instructions
Line baking sheet(s) with foil, place cookie rack on top and spray with cooking spray. Preheat your oven to 425-450 F depending on your oven.
Defrost cauliflower, drain in a sieve
Mix the milk/water/flour and spices in a medium mixing bowl.
Mix until the batter is thick
Add cauliflower to the batter.
Lay the cauliflower single layer on the cookie rack.
Bake for 20-25 minutes until golden brown, flipping the florets over half way through to get all sides golden brown and crispy.
Once the cauliflower is done it. remove them from the oven and put all the baked florets into a mixing bowl with the wing sauce and toss to coat evenly.
Respray cookie rack
Return cauliflower to baking sheet and bake in the oven for another 20-25 minutes.
Notes
If you want them crispier - turn on the broiler for the last few minutes.
Print
Adapted from gimmedelicious.com and realhousemoms.com
Adapted from gimmedelicious.com and realhousemoms.com
Lazy Bear Foods https://lazybearfoods.com/