6 July, 2018
Lemony Cucumber And Herb Pasta Salad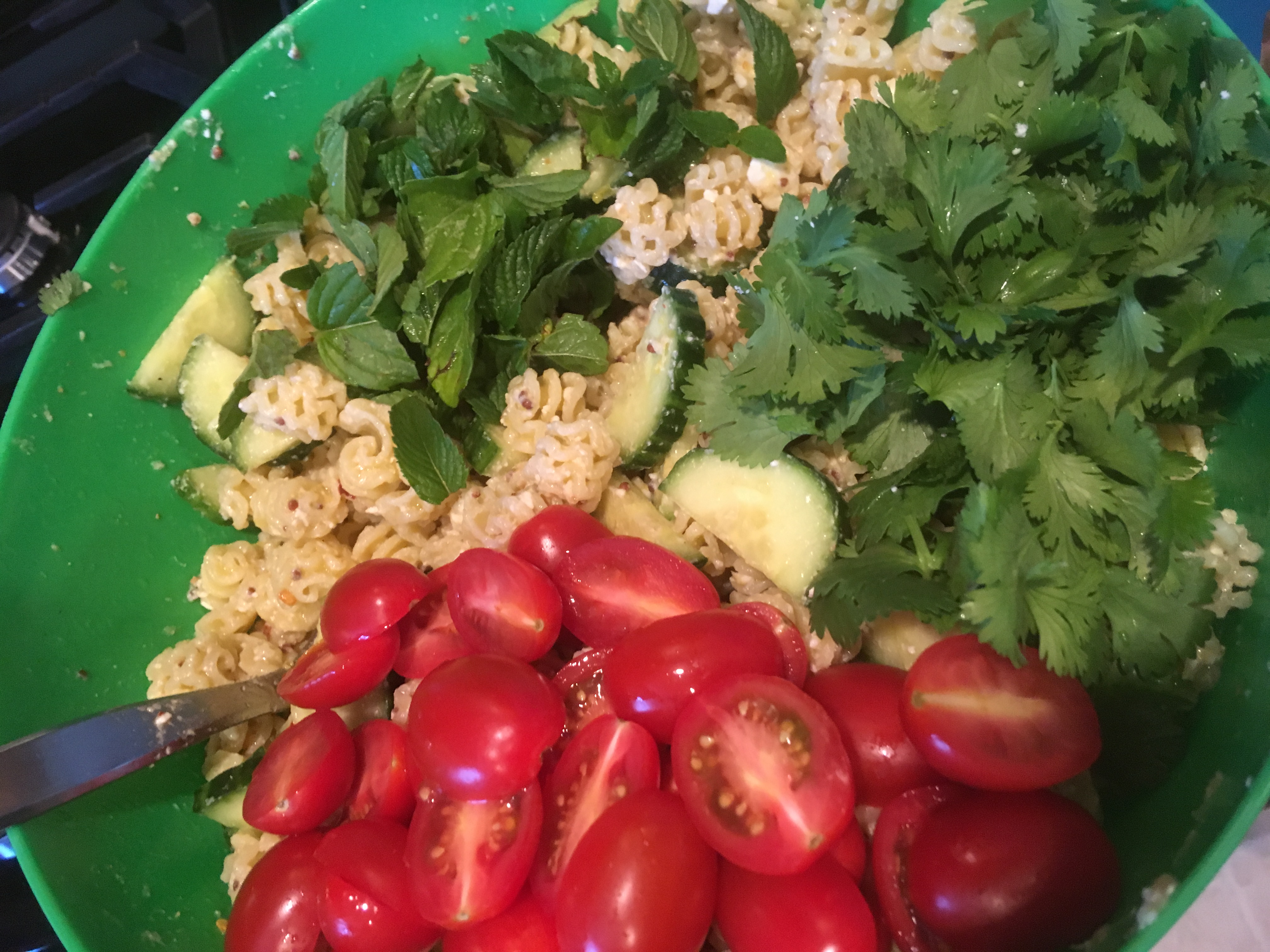 Posted in :
Pre-prep
,
Salads
,
Veggies
on
by :
Nicole
Saw this recipe in a Real Simple and knew it just had to be made!
As luck would have it there was a pot luck and the needed another pasta salad – squee!
Quick to make, so pretty, so refreshing!
Lemony Cucumber And Herb Pasta Salad
2018-07-06 20:58:02
Ingredients
1 pound short pasta (such as radiators, orecchiette, gemelli)

1 teaspoon kosher salt, plus more for cooking pasta

5 tablespoons olive oil, divided, plus more for serving

2 tablespoons whole-grain mustard

1 tablespoon lemon zest plus 4 tablespoons fresh juice (from 2 lemons)

2-4 cloves garlic, finely chopped or grated

½ teaspoon black pepper

1 teaspoon crushed red pepper

1 english cucumber, sliced and halved

8 ounces feta cheese, crumbled

1 cup packed fresh cilantro leaves and tender stems

½ cup packed fresh mint leaves, cut into strips

Halved cherry tomatoes - optional
Add ingredients to shopping list
If you don't have Buy Me a Pie! app installed you'll see the list with ingredients right after downloading it
Instructions
Cook pasta in a large pot of boiling salted water according to package directions for al dente. Drain and spread on a rimmed baking sheet. Toss with 2 tablespoons oil and set aside.
Whisk mustard, lemon zest and juice, garlic, salt, black pepper, and crushed red pepper in a large bowl. Whisk in remaining 3 tablespoons oil. Add cucumbers and feta and toss to coat. Add tomatoes if using.
Add pasta to cucumber mixture and toss to combine. Pasta salad can be made up to this point up to 2 days in advance. Just before serving, add cilantro and mint, toss and serve.
Notes
Try not using the oil after the pasta is cooked. Perhaps 2 lemons worth of zest.
Print
Lazy Bear Foods https://lazybearfoods.com/