8 August, 2018
Campfire – Chili Cheese Crescent Hot Dog Bake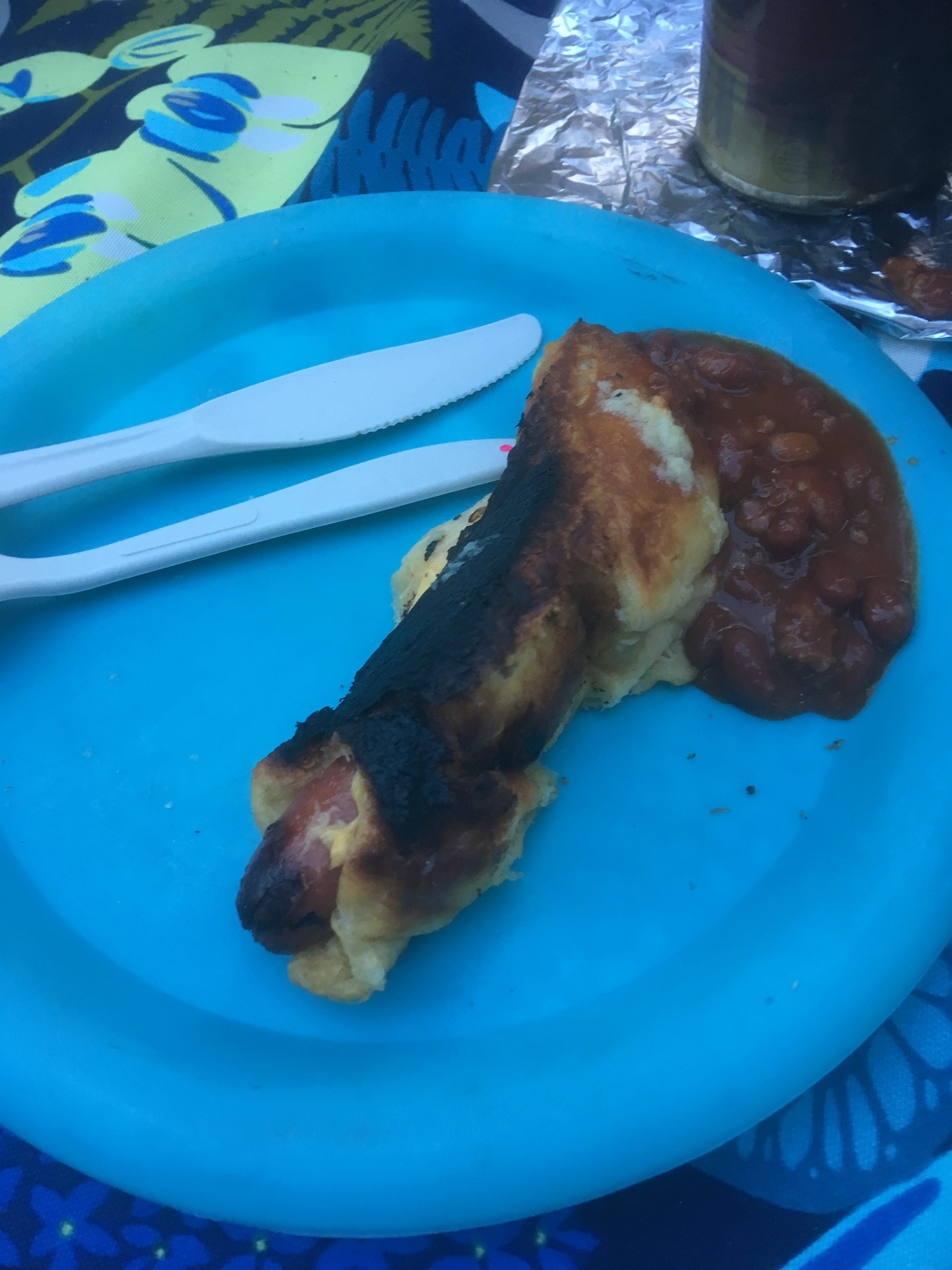 Posted in :
Appetizers
,
Camping
,
Recipe
on
by :
Nicole
Saw this amazingly bad for you recipe on facebook and knew this was something I wanted to try.
We decided to modify it for the campfire, and it mostly went ok! Definitely a learning curve and lucky for you, I've done all the mistakes for your benefit!
Basics – package of crescent rolls, hotdogs, slices of cheese, butter with grated garlic and a can of hormel chili – hot!
Garlic and butter melting on the campfire with the can of chili
4 hotdog version of the rolls!
Meal in process! Next time remember to cover with foil!
Final result! This time a bit charred – next time will be perfect!
Thoughts – don't need the cheese, chili on the camp fire is amazing!
Campfire - Chili Cheese Crescent Hot Dog Bake
2018-08-08 20:44:27
a delightful yummy campfire meal
Ingredients
4 hot dogs

4 slices American cheese or 3/4 cup shredded cheese (optional)

1 can refrigerated crescent dough sheet

1-2 cans (15.5 oz ea) chili , depending on how much chili you like

3 tablespoons Butter (approximately), melted

1-2 cloves garlic , minced
Add ingredients to shopping list
If you don't have Buy Me a Pie! app installed you'll see the list with ingredients right after downloading it
Instructions
Pop the can of chili and put it on the campfire grate. (stir occasionally)
Place foil in a frying pan
Spray with pam
Open the can of crescent dough and roll out dough. Use the cuts to determine 4 dough areas.
Roll 1 slice of cheese (if using) around 1 hot dog. Roll 1 square of crescent dough around the cheese/hot dog. Repeat for all 4 hot dogs. Gently press the seams of the crescent dough down.
Melt butter and then add minced garlic. (ramekin on the camp fire is a delightful way to do it!) Place hot dogs in prepared pan. Brush top of dough with the garlic butter. Save remaining garlic butter.
Cover with foil and bake on fire for about 15 minutes.
Flip hotdogs, re-cover and cook for 15 minutes or until tops of dough are golden brown and cooked.
Place hotdog on plate and pour chili over top - eat and enjoy!
Notes
Can expand to the 8 hotdogs and use less dough for each dog.
Chili on the campfire is delicious!
The butter and garlic really make it!
I melted my butter and garlic at home and reheated on the campfire when we go there.
Careful with the fire, crescent rolls can burn quickly
Print
Lazy Bear Foods https://lazybearfoods.com/
Verdict – this is a pretty quick and easy camping dinner!
Next up – try it in the crockpot! (remember, just pop a chop stick in the cover to make the crescent roll not gooie!