2 May, 2016
Cranberry Dog Treats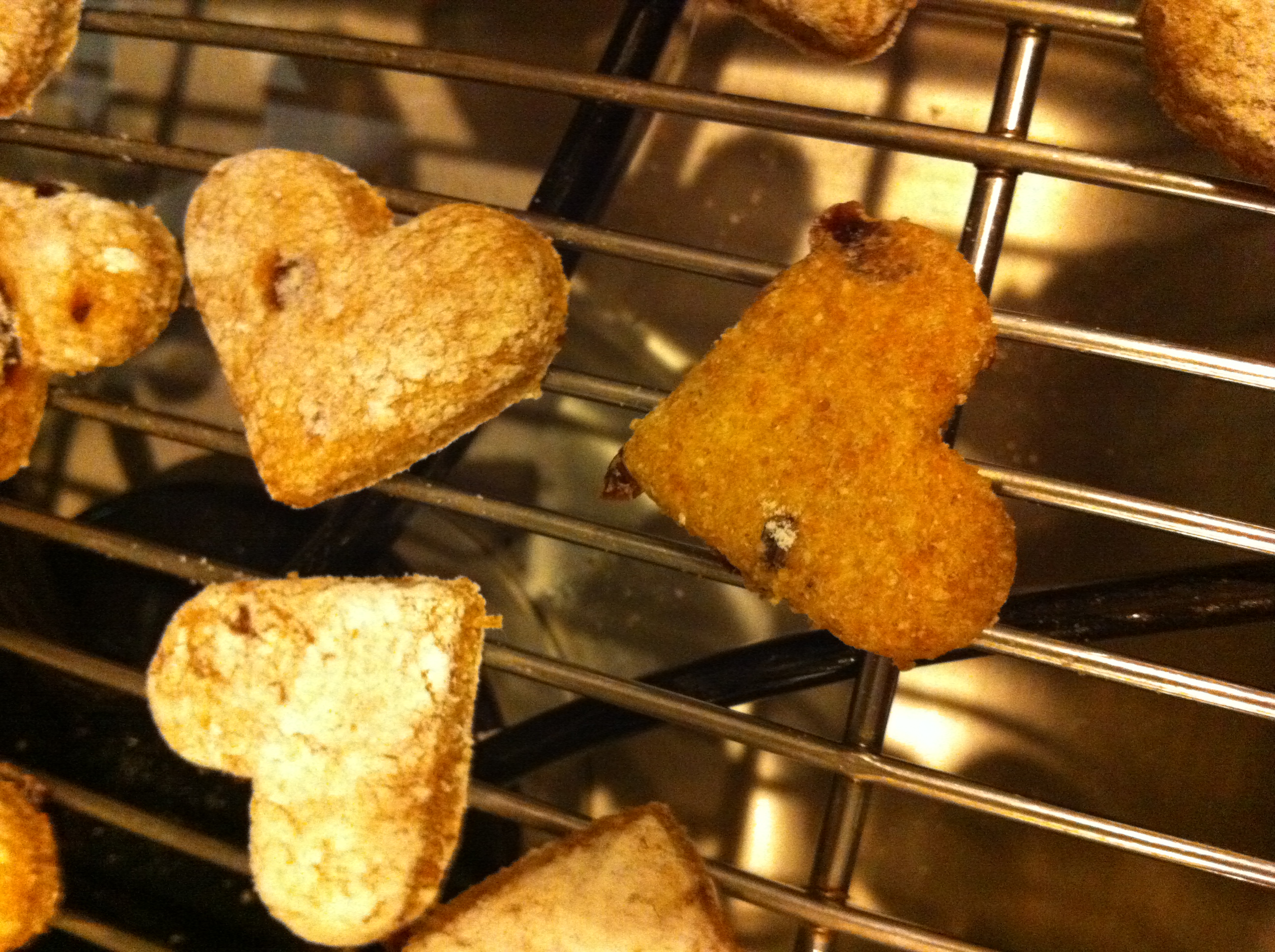 Posted in :
Dog Stuff
,
Dog Treats
on
by :
Nicole
For me, my fur-babies are my real babies. So making them treats that i know and can pronounce all the ingredients is important to me! And it's a serious money savings as well!
One day i came across a Rachel Ray recipe for cherry crunchies – dog cookies.
The ingredients were doable and i had dried cranberries in the cabinet anyway… (kind of the say – red, dried…) so why not give it a go!
This was my first foray into making homemade treats for my kids and i haven't looked back since.
This recipe will make 100 or more small cookies, but my insert wouldn't allow more than 20 in the servings info!
Treats for your fur babies!
Ingredients
2 1/2

cup

whole wheat

flour

1/2

cup

dried cranberries
Directions
Preheat oven to 350.
In the bowl of a food processor, add cranberries, pulse for a few times to get the pieces smaller. They will get smaller still as the rest of the ingredients go in
Add flour, milk powder, and edd. Pulse a few times to combine.
Slowly add water up to the 2/3 and onto the 1 cup until the mixture is the right consistency to roll. (note: too much water is fixable, not enough makes unusable cookies!)
On a lightly floured work surface, roll out the dough 1/4 inch thick. (using my fancy rolling pin that had the measured discs to ensure correct thickness!) Note: i put down either a silpat or saran wrap to keep the dough from sticking to my counter. I flour that surface.
Using a 1-inch cookie cutter (i use small ones, since i have small pups, and heart shaped since the cookies have little pieces of red in them!) cut out the dough and transfer to a silpat on a cookie sheet (or grease them if you don't have a silpat)
Gather and combine all the scraps, roll and form more cookies; repeat until all of the dough is used. Bake until crisp  40 minutes. I'm at altitude – Denver – so depending where you are less time might be necessary! I like them to bake enough to dry out the cranberries completely, if you like softer cookies, cook for less time, but use them quickly or keep them in the fridge
Transfer to a rack to cool
Tips
Time saving: you can also leave them overnight in the oven, if they are "almost cooked", just turn off the oven and let the oven and the cookies cool!
Note: i did research originally regarding the food safety of cranberries for pets and didn't find any negative information on it, nor any information really. I recently did another search and there is about 25% that indicate raw cranberries might be bad, due to upset tummies, but most of that info was based on trying to cure a UTI. I'm not trying to cure a UTI and the fruits are very small after processing and cooked at high temps. But take care to choose what options work for your pet and their digestive needs.
Other options for healthy dog treats include shredded carrots or cooked spaghetti squash, and less water. I'll got full posts on those later!