4 November, 2016
Chocolate Rum Truffle Torte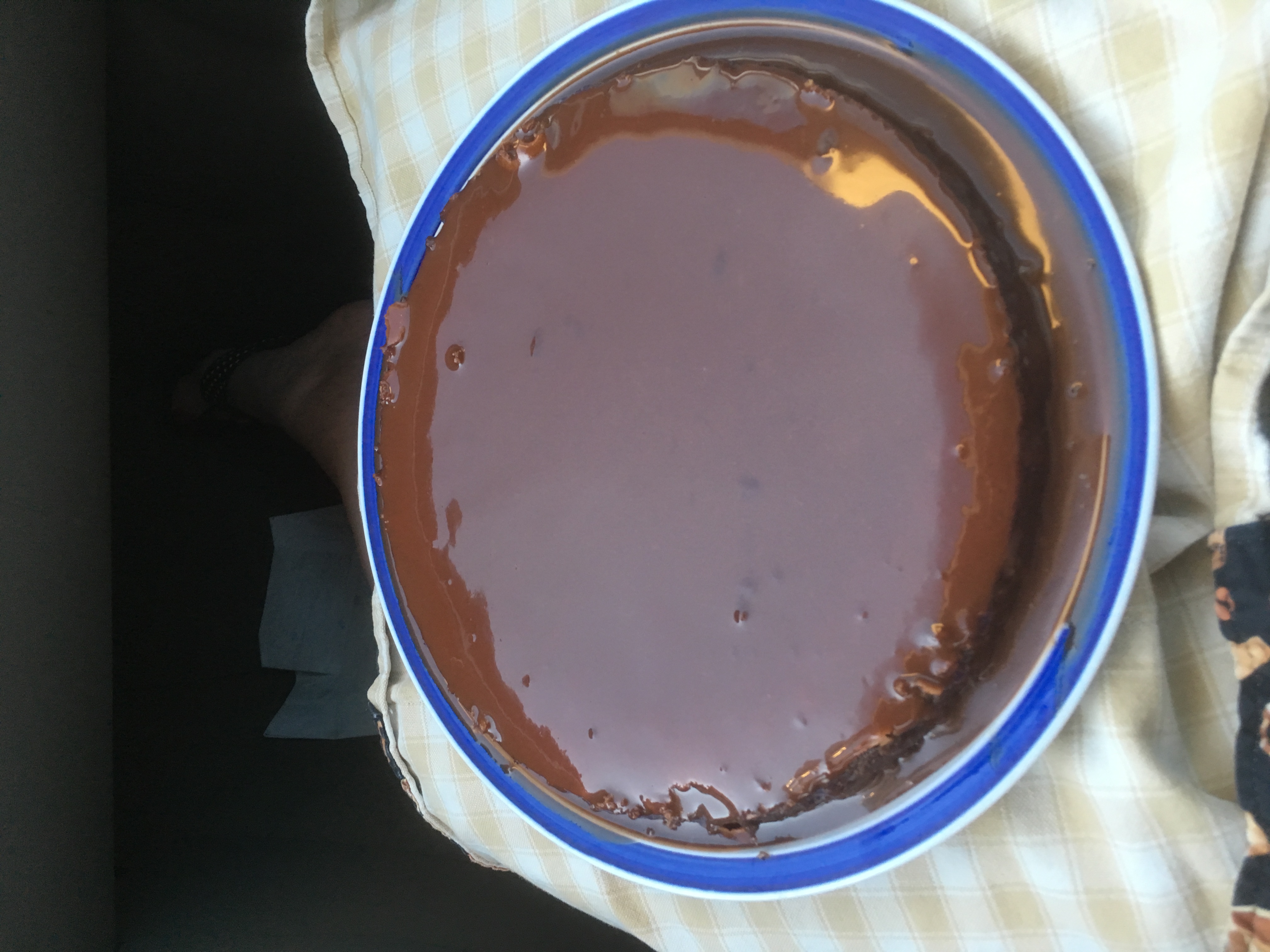 Posted in :
Dessert
on
by :
Nicole
This recipe was a must do when i saw it and luckily my sister gave me my mom's spring form pans for christmas!
Lessons learned:
Know your tools. A springform pan needs to sit in a water bath.
I sadly do not have a roasting pan. But what i do have is a lovely deep frying pan. So i wrapped the handle in foil and carried on.
If traveling with this, and sadly your frosting doesn't set… don't pour it on your torte… wait until you arrive to where you will be eating it.
I did update the recipe to use hershey's chocolate bars due to the tastes of my household. And i gotta say – yes!
The scary part while making this recipe, was the amount of chocolate to get to 1 pound. It is very disturbing to watch that amount…
Chocolate-Rum Truffle Torte
2016-10-30 20:00:56
Serves 12
Amazing delicious desert
Ingredients
TORTE

3/4 cup sugar

1/2 cup hot water

1 teaspoon instant coffee powder

1 lb. milk chocolate, chopped

3/4 cup unsalted butter, cut up

5 eggs

1 tablespoon rum

FROSTING

3/4 cup heavy whipping cream

6 oz. milk chocolate, chopped

1 tablespoon rum
Add ingredients to shopping list
If you don't have Buy Me a Pie! app installed you'll see the list with ingredients right after downloading it
Instructions
1. Heat oven to 350°F. Butter bottom and sides of 9-inch springform pan. Line outside of pan with heavy-duty foil.
2. Combine sugar and hot water in small bowl until sugar dissolves. Stir in espresso powder.
3. Melt 1 lb. chocolate and butter in large heatproof bowl set over saucepan filled with 1 inch almost simmering water (bowl should not touch water). Let stand until chocolate is almost melted, stirring occasionally. Remove bowl from heat; stir until melted and smooth. Stir in espresso mixture. Let cool until slightly warm, not hot.
4. Whisk in eggs one at a time, just until blended. Whisk in 1 tablespoon rum. Pour into springform pan. Place in large shallow roasting or broiler pan; add enough hot tap water to roasting pan to come 1 inch up sides of springform pan.
5. Bake 45 to 55 minutes or until cake is set and center does not move when pan is tapped. Remove pan from water bath; remove foil. Cool on wire rack to room temperature, about 2 hours. Run thin knife around edge of pan before releasing sides.
6. Meanwhile, heat cream in small saucepan over medium heat until small bubbles form around edge. Add 6 oz. chocolate; remove from heat. Let stand 2 to 3 minutes or until chocolate is almost melted; whisk until smooth. Stir in 1 tablespoon rum. Refrigerate 30 minutes or until frosting is of spreadable consistency, stirring occasionally.
7. Spread frosting over top of cake, swirling to decorate. Refrigerate until frosting is set. (Torte can be made 1 day ahead. Cover and refrigerate.) Serve at room temperature.
Notes
I used an 8.5 inch spring form pan, cooked for an extra 30
Options: trade out the alcohol, could try kahlua, baileys, or different flavor whiskeys
Print
Adapted from Archive.handy.scout.com
Lazy Bear Foods https://lazybearfoods.com/
This recipe is a lot of hard word. But the results are amazing. More than a meal's worth of calories, but delicious and wonderful to bring to a friend to enjoy and overindulge.
Getting the butter ready was a so hard to do. That is SO – MUCH – BUTTER….
Oh and watching the chocoalte and butter melt together… wowza…
Buttering the spring pan – do it well!
Then the instant coffee, sugar and water mixture… wowza! Smell the yum!
Oh, how beautiful… but the direction "Bake 45 to 55 minutes or until cake is set and center does not move when pan is tapped."
Sadly for me – this meant almost nothing to me. I poked the top, shimmied the pan, and was simply at a loss… Basically i went with – the top is hard, the below is slightly wiggly, like set pudding.. But it all worked out! Since i had already added an extra 30 for the less 1/2 inch diameter.
The final step – the "frosting". Mine ended up being grenache, because my fridge was acting up… so we did a liquid covering instead! Still was lovely!
And finally – here is a vision to enjoy… the outcome…