21 March, 2017
Salted caramel peanut butter truffles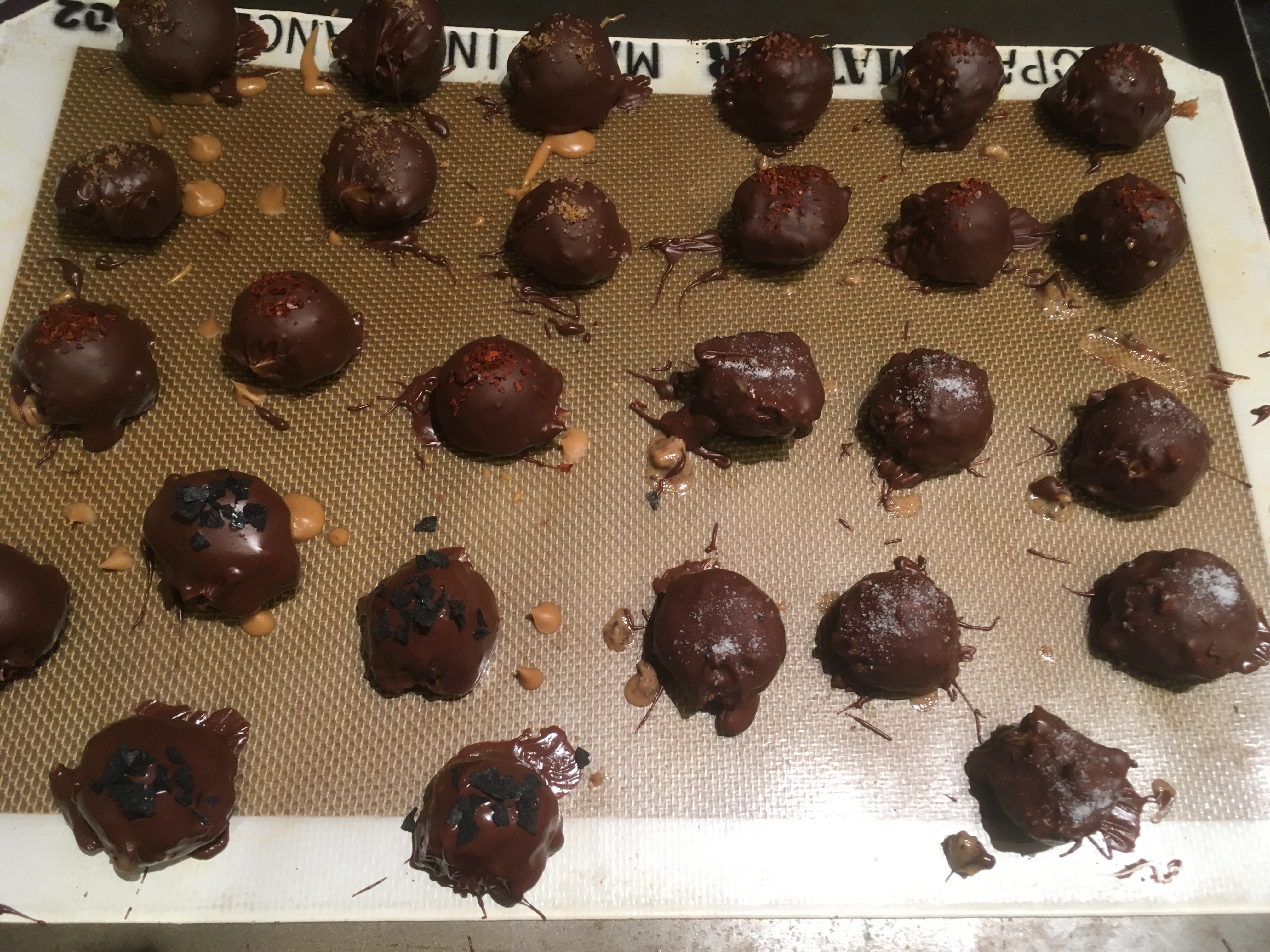 Posted in :
Dessert
on
by :
Nicole
A little trick to get your loved ones or you to get some healthy with your sweet
These are a great dessert and a fun way to use up some fancy salts!! OR a reason to get more! Squee!
Salted caramel peanut butter truffles
2017-03-16 21:34:26
Serves 24
Amazing little balls of heaven!
Ingredients
2 cups Medjool dates, pitted

1/2 tsp sea salt + more for topping (different flavors)

1/4 cup natural salted peanut butter (creamy is best, but crunchy works, too) jiff works too

1 heaping cup chocolate chips

1 Tbsp melted coconut oil
Add ingredients to shopping list
If you don't have Buy Me a Pie! app installed you'll see the list with ingredients right after downloading it
Instructions
If dates aren't sticky and super moist when squeezed, soak in hot water for 10-15 minutes to soften. Drain thoroughly and pit. Otherwise, pit and add to food processor.
Blend/pulse your dates until they form a loose "dough." If it becomes a ball, that is good.
If it does not combine, drizzle in a tiny bit of warm water - 1 tsp at a time - scraping down sides as needed, and mix until a rough paste or ball forms. Note: Too much water will make it difficult to handle and they won't freeze up well.
Add 1/2 tsp sea salt and mix once more to incorporate. Taste and adjust saltiness level if desired.
Using a small melon baller, scoop out small balls.
Place on a parchment/silpat-lined baking sheet and freeze for 20-60 minutes to set.
Once set - drizzle peanut butter until the top is coated. Note: If your peanut butter is too firm and not spreadable (meaning it's either dry or not the natural variety), add it to a small mixing bowl with 1/2 TBSP coconut oil and microwave to melt Stir to combine, then proceed as instructed.
Freeze again for another 15-60 minutes, or until the peanut butter has formed a semi-firm "shell."
Heat the chocolate in the microwave in 30 second increments with 1 TBSP coconut oil.
Remove truffles from freezer and, using a fork, scoop truffles up and quickly immerse in chocolate, using a small spoon to drizzle chocolate evenly on top.
Gently shake off excess chocolate and place back on parchment/silpat-lined baking sheet.
Top truffles with a small sprinkle of sea salt (optional), and repeat until all truffles are coated. Note: Here is best to have a helper to do the salt as you work through the chocolate
Freeze to set again
Place back in freezer to set (20-60 min)
Set out from the the freezer or fridge to serve. For softer truffles, let come to room temperature.
Store in a freezer-safe container in the fridge or freezer to keep fresh. Makes about 20 truffles.
Notes
Change up chocolate, peanutbutter and salts to get different combinations of flavors!
Favorites: Adobo pepper, truffle salt, ghost pepper salt, sea salt, hybiscus salt...
Print
Lazy Bear Foods https://lazybearfoods.com/
This is such a fun recipe! I love getting to use all my wonderful salts and having a semi healthy option for when i am craving something sweet! This is not a quick dessert and it will take a while to make!
Dates! Costco has a great container, it makes about 2 batches
Here are some of my salt collection! So addicting!
And they are just so cute and pretty!
Note: Use a peanut butter and chocolate you enjoy! We used a multi nut butter to be "healthy" and ick… So back to jiff for us!