2 May, 2017
The Best Frittata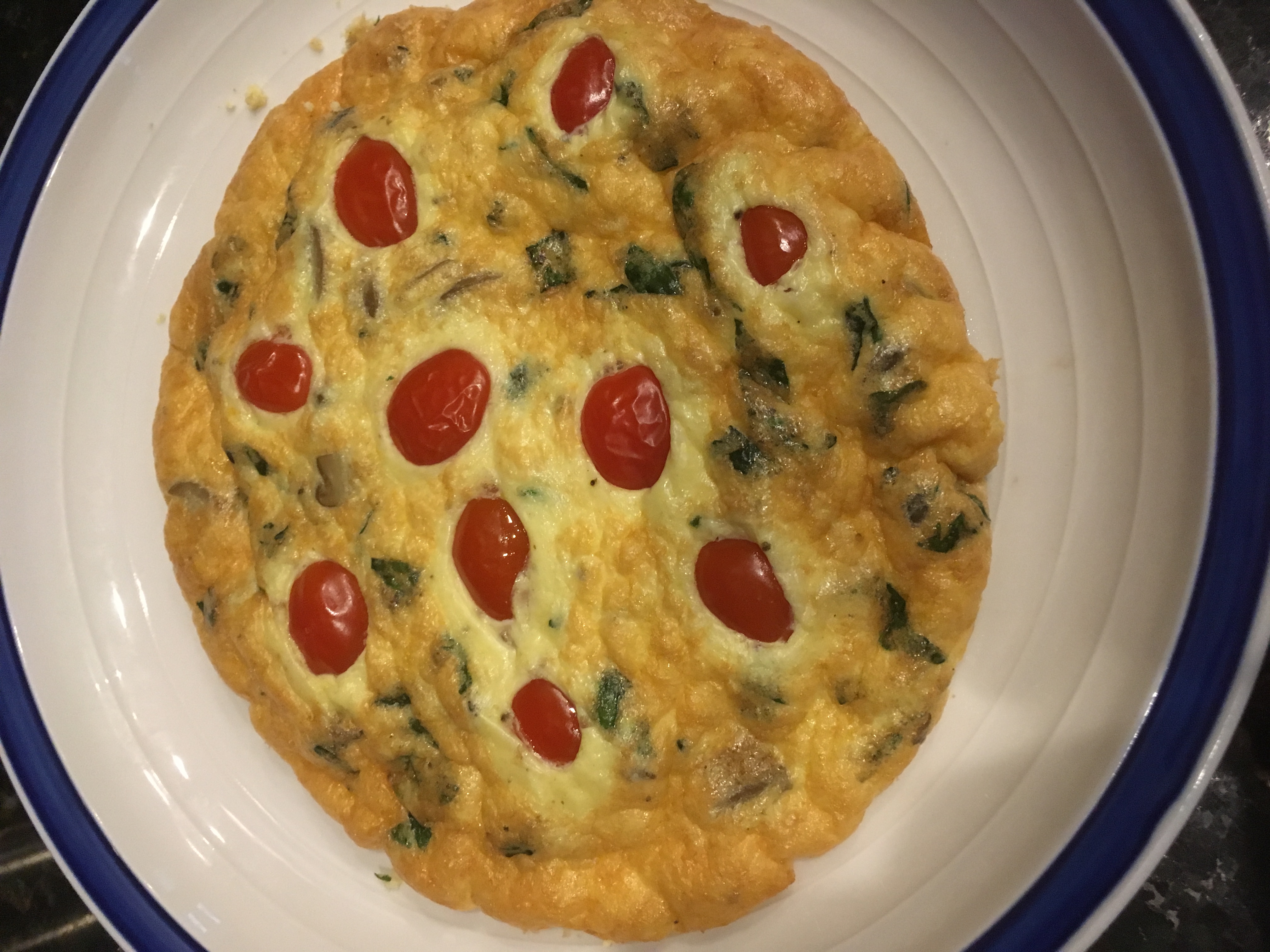 Posted in :
Appetizers
,
Breakfast
,
Pre-prep
,
Veggies
,
Wheat Free
on
by :
Nicole
I have had this recipe from CL for eons. I've used it for parties (use your pizza cutter to make 16 mini slices for a great appetizer) and cut into 4 for that many days of breakfasts!
I love this at room temp, better than hot or cold, but choose your meal as you see fit!
Most recently i decided to get a little giggy and update the recipe with spinach and garlic. Garlic was indeed the missing item all these year! Kicks it up a notch and just adds a little umph! Squee!
Also i tried some halved cherry tomatoes at the last minute under the broiler and omg… best decision!
Tools:
Best Frittata
2017-04-23 12:47:00
Ingredients
1 (8-ounce) package mushrooms (or 1 can drained and squeezed) - chopped

1-2 cups spinach (slice, after measuring)

1-2 cloves of garlic, grated

1/2 cup shredded Parmigiano-Reggiano cheese (or 1/2 cup feta)

Salt and pepper to taste

6 cherry tomatoes, halved, optional

3 large egg whites

2 large eggs
Add ingredients to shopping list
If you don't have Buy Me a Pie! app installed you'll see the list with ingredients right after downloading it
Instructions
Heat an 8-inch ovenproof skillet over medium-high heat. Coat pan with olive oil.
Add mushrooms to pan; sauté 12 minutes or until lightly browned.
At about the 10 minute mark, add the spinach and garlic
Place mixture in a bowl; cool slightly.
As mushrooms cook, whisk, beat your egg and egg whites in a medium bowl (big enough to hold all the ingredients)
Heat broiler
Wipe pan clean with paper towels.
Spray pan with cooking spray, head over medium heat
Add mushroom mixture, cheese, salt and pepper to eggs.
Add mushroom mixture to pan; cook, covered, for 5 minutes or until almost set.
If using tomatoes, add those to the top
Broil 3 minutes or until egg is set. Cut into 4 wedges.
Notes
This is such a versatile recipe! change out the cheese, the veggies, the spices!
Print
Adapted from CL
Lazy Bear Foods https://lazybearfoods.com/
Pre-prep – as a true pre-prep meal this isn't that, but since i like it at room temp, making the whole thing during a prep day means i have 2-4 meals on the ready for the week.
I love how versatile this recipe it! I ran out of parmesan and threw in some feta, and wowza! Still yummy!
So branch out, see what you have in your fridge, try it out!
My most recent one, i didn't have any mushroom – fresh or canned, so i just did more spinach and additional tomatoes on the top. Slurp! I had 2 pieces for breakfast – but honestly that is still on 240 calories and lots of protein for a meal – not bad!
Pro tip – spend an inordinate amount of time whipping those eggs. I like how it comes out better when you work on them a bit first!
The timing is up to you – i find that the time to cook the mushrooms just seems to be forever, but the garlic and spinach is moments! Always add the garlic with the spinach or even a smidge before to get it to open up in the pan!
I also tend to let my frittata sit longer on the stove top, till i can see the sides are mostly set, and then i add the tomatoes and toss it in the oven!
If you don't have a frying pan you can use in the oven (i only recently got a full steel pan), you can double wrap your handle in foil – and then to be green, use that same foil to wrap up your pieces after they cool! (Obviously read your manufacturer's instructions before putting your pan under the broiler!)
I definitely like this recipe at room temp. I tend to take it out of the fridge prior to my shower to let it warm up before i eat it!
If you give this a try, let me know what you thought, and if you tried other ingredients, let me know! Always looking for something new to try!