9 September, 2018
Zucchini Brownies with 1 minute frosting
Posted in :
Dessert
,
Veggies
on
by :
Nicole
A fabulously fun way to use up some of that zucchini that is going crazy in the garden!
I was looking for more options
This is definitely a "can't taste it" and won't know there is veggie in here!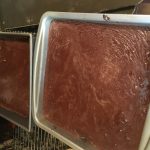 Zucchini Brownies with 1 minute frosting
Ingredients
1/2 cup vegetable oil
1 1/2 cups white sugar
2 teaspoons vanilla extract
1 egg
2 cups all-purpose flour
1/2 cup unsweetened cocoa powder
2 teaspoons baking soda
2 1/2 cups grated zucchini undrained (about one large)
1 MINUTE FROSTING

1/3 cup milk
1/3 cup butter
1 1/2 cups white sugar
1 cup chocolate chips
Instructions
Preheat oven to 350 degrees.
Spray with cooking spray a 9×13 pan. or (2 8X8 pans)
Combine oil, sugar, egg and vanilla. In a separate bowl, combine flour, cocoa powder and baking soda. Add the flour mixture to the sugar mixture and stir well. (It will appear quite dry). Gently stir in the zucchini and spread the mixture into your prepared pan.
Bake 25-30 minutes.
FROSTING

While cake is cooling, combine butter, milk and sugar in a small pan. Bring to a boil over medium heat. Allow to boil vigorously for 30 seconds. Remove from heat and stir in chocolate chips. Immediately pour over warm brownies. Let cool completely before cutting.
http://lazybearfoods.com/2018/09/zucchini-brownies-with-1-minute-frosting/
Verdict:
Amazing!
Brownies were less sweet than expected, but frosting was super sweet and chocolaty!
Next time i'm adding chocolate chips to the brownie and cooking for less time!
If you try this recipe, let me know what you think!