4 June, 2016
Cranberry Oat Dog Muffins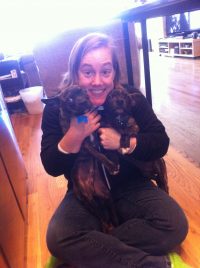 Posted in :
Dog Stuff
,
Dog Treats
on
by :
Nicole
Honestly you can eat these yourself, and i've had husband's of friend mistakenly chow down on other treats meant for a furry friend to no harm, but they will be pretty bland and no sugar! (But he will say it sat nicely on his post food poisoning tummy!)
I have fur babies. They have 2 birthdays! The day we picked as their birthday – which was July 4th 2010 – cause we can remember it! And their second birthday is their "Forever Home" day – which was the day we got them from the shelter – which was November 14th 2010!
In honor of my pups i make them "birthday cakes" – or mini muffins that they get to eat for about 1/2 a month! One a day!
The past year they got Cranberry Oat Muffins which were a riff on these Cherry Oat Muffins I found on Dog Treat Kitchen! I have successfully switched out out dried cranberries for most of the dog recipes that call for Cherries that  I have found! Works like a charm!
Another tip and trick I use is dried buttermilk powder! OMG – it is a life saver! No longer is there the rest of the carton left to rot in the fridge, just add the powder to your dried items, and the water to your wet stuff. LOVE IT!
Cranberry Oat Dog Muffins
Perfect little treats for your beloved fur babies! I prefer the mini muffin size since my pups are small. This makes 24 or more mini muffins.
Ingredients
3/4

cup

buttermilk

(

1/4

cup

powder,

3/4

cup

water

)

1

cup

dried cranberries

, roughly chopped
Directions
Preheat oven to 400° F
Spray mini muffin pan with non stick spray.
Stir oats, flour, buttermilk powder and cinnamon in a large bowl.
In a separate medium bowl, stir buttermilk, egg, water and applesauce.
Pour buttermilk mixture into the oats mixture.
Stir just until moist.
Stir in cranberries
Fill muffin cups 2/3 full.
Bake for 15-20 minutes, or until toothpick comes out clean.
Cool for 5 minutes in the muffin pan on a wire rack.
Remove from pan and cool completely on a wire rack before serving.