29 December, 2016
Sweet and Spicy Nuts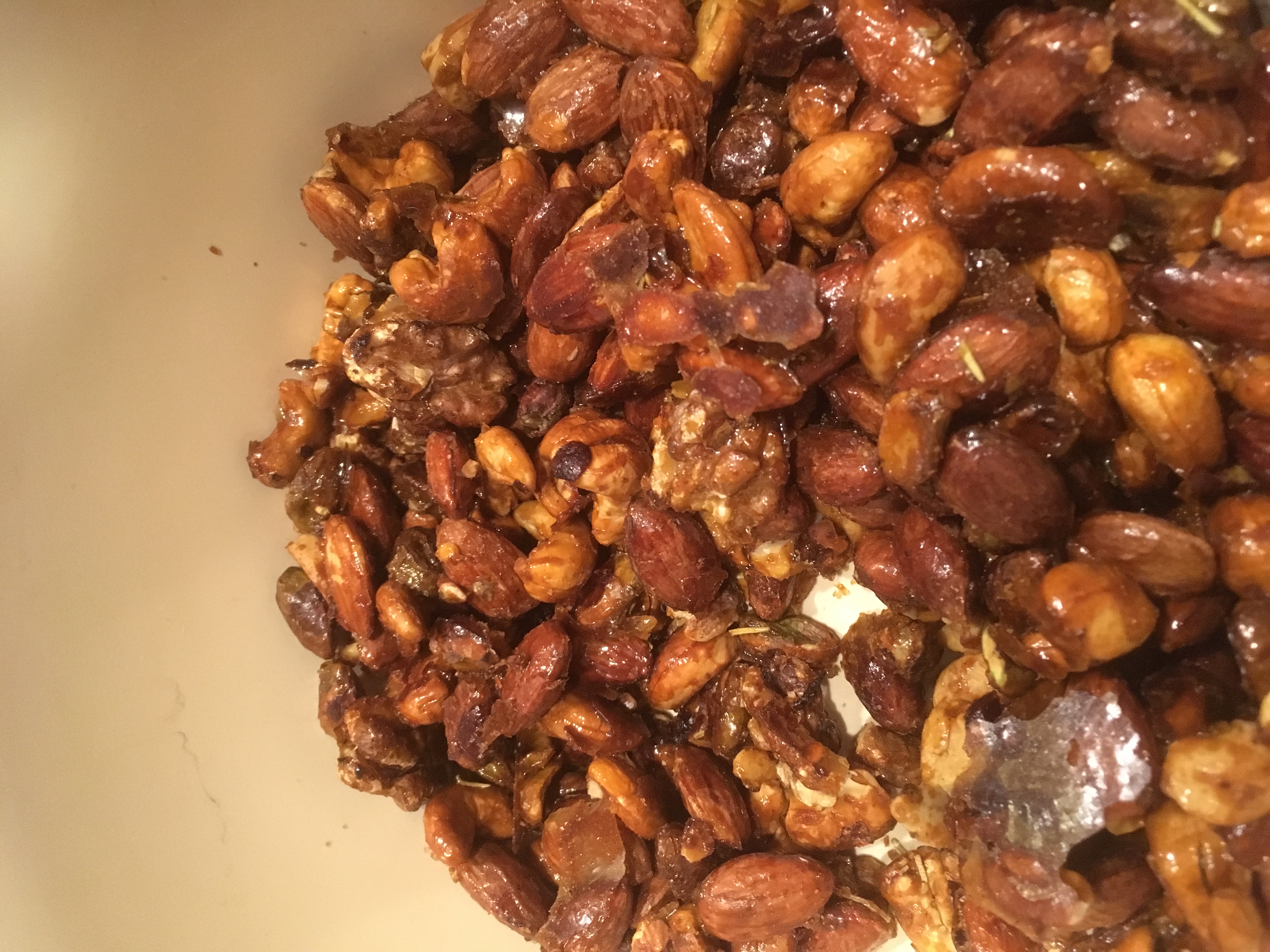 Posted in :
Appetizers
,
Recipe
on
by :
Nicole
I had a bag of mixed nuts from costco, that were just… enh. The flavors together were just weird.
I was trying to eat healthier but this was just a no go for me. So i looked up this recipe, but had been doing some other recipes that use Brown Rice Syrup to help keep one's glycemic index from spiking. So i decided to do some experimentation. And definitely a win and a great way to use up nuts that might taste a little weird, be a little old, or just plain old nuts!
Pro tip – don't use the bad that has dried cranberries and cherries – ick… I spent nearly 30 minutes after it was done, removing these little bad taste bombs!
Equipment Needed:
Bowl to mix
Jelly roll pan 10X15
Silpat or sheet of foil to cover the jelly roll pan
Sweet and Spicy Nuts
2016-12-06 20:49:01
Serves 6
Ingredients
1 cup blanched almonds

1 cup pecans (i skip these, used the mixed nuts or more almonds)

1 cup walnuts

¼ cup shelled raw pumpkin seeds (pepitas) (optional)

⅓ cup pure maple syrup (or brown rice syrup)

2 tablespoons olive oil (1 spicy, 1 butter)

2 tablespoons rosemary leaves

2 teaspoons crushed red pepper flakes

1 teaspoon hot smoked Spanish paprika

1 teaspoon kosher salt (up to 2)
Add ingredients to shopping list
If you don't have Buy Me a Pie! app installed you'll see the list with ingredients right after downloading it
Instructions
Preheat oven to 350°. Toss almonds, pecans, walnuts, pumpkin seeds, syrup, oil, rosemary, red pepper flakes, paprika, and salt in a medium bowl to evenly coat nuts. Transfer to a rimmed baking sheet or a large cast-iron pan and roast, tossing occasionally, until nuts are toasted and maple syrup caramelizes, 20–25 minutes.
Transfer to a sheet of parchment and spread out in an even layer, breaking up to prevent clusters from forming. Let cool.
Notes
For the nuts need to have about 3 and 1/4 cups of nut items.
Print
Adapted from Bon Appetit
Lazy Bear Foods https://lazybearfoods.com/