4 January, 2017
Sichuan Style Stir Fried Chicken with Peanuts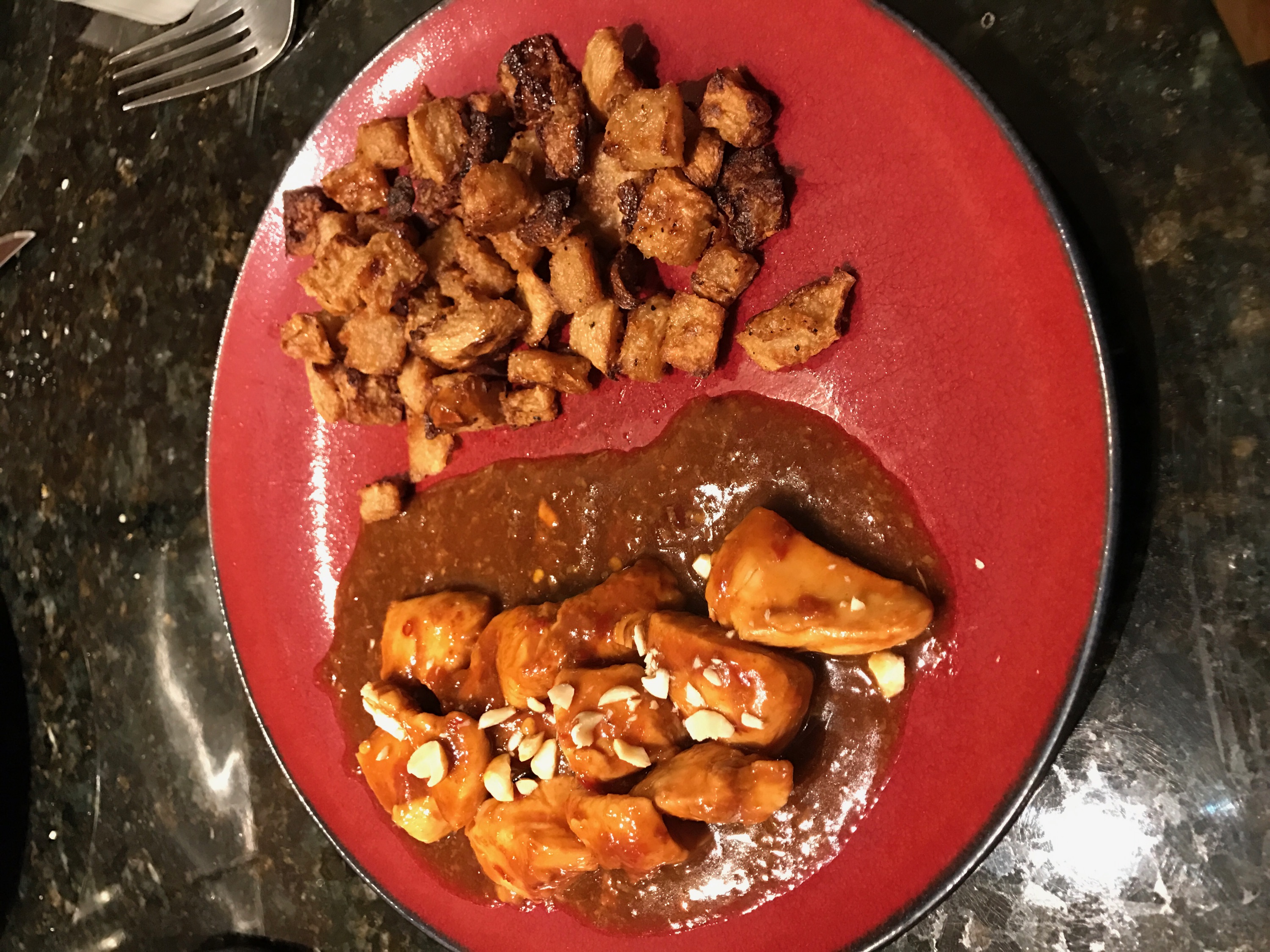 Posted in :
Chicken
,
Pre-prep
on
by :
Nicole
This might be as close to "take out" as I've ever come.
Most of the time when the recipe claims just like take out – it's not, and it is usually pretty gross!
So this is a keeper and a winner. It has been in our arsenal for a while, i just forgot how good it was and for some reason thought it was hard to make. Memory is a terrible thing to waste! Note: it definitely doesn't taste like kung pao chicken, but it is super delicious!
Sichuan-style stir-fried chicken with peanuts
2017-01-04 20:14:14
Description says similar to Kung Pao Chicken - um... not really, but it is really tasty! Optional toppings - water chestnuts, green onions
Marinade
2 tablespoons low-sodium soy sauce

2 tablespoons rice wine or sake

1 teaspoon cornstarch

1 teaspoon dark sesame oil

1 tablespoon chili paste with garlic

1 skinless, boneless chicken breasts, cut into bite-size pieces
Stir-Frying Oil
2 tablespoons vegetable oil, divided
Sauce
1/2 cup fat-free, less-sodium chicken broth

2 tablespoons sugar

2 1/2 tablespoons low-sodium soy sauce

2 tablespoons rice wine or sake

1 tablespoon Chinese black vinegar or Worcestershire sauce

1 1/4 teaspoons cornstarch

1 teaspoon dark sesame oil

1 1/2 tablespoons minced peeled fresh ginger

1 1/2 tablespoons minced garlic (about 7 cloves)

1 tablespoon chili paste with garlic
Remaining Ingredients
3/4 cup unsalted, dry-roasted peanuts
Add ingredients to shopping list
If you don't have Buy Me a Pie! app installed you'll see the list with ingredients right after downloading it
Instructions
1 To prepare marinade, combine first 6 Ingredients: in a medium bowl; cover and chill 20 minutes.
2 Heat 1 tablespoon of the vegetable oil in a wok or large nonstick skillet over medium-high heat. Add the chicken mixture; stir-fry 4 minutes or until chicken is done. Remove from pan; set aside.
3 To prepare sauce, combine broth and next 6 Ingredients: (broth through 1 teaspoon sesame oil); stir well with a whisk. Heat 1 tablespoon vegetable oil in pan. Add ginger, garlic, and chili paste, and stir-fry for 15 seconds. Add broth mixture, and cook 1 minute or until thick, stirring constantly.
4 Stir in cooked chicken, cook for 1 minute or until thoroughly heated.
Optional
Water chestnuts
Green onions
Print
Lazy Bear Foods https://lazybearfoods.com/
I made this recipe for the 2 of us, by just including a single chicken breast cut into pieces. The sauce is till at the level of the full recipe, so you can add chicken up to 4 breasts. We like sauce… so we are happy with just 1 breast!
I also like to keep my calories lower, so i left the peanuts off in a bowl for the hubby to sprinkle on top. And i put my chicken over spinach, kinda like a warm, wilted salad.
Pre-Prep
Make the marinade, except for the cornstarch (add the corn starch when you are ready to add the chicken). Store it in a container.
Marinade chicken anywhere from 20 min to over night
Make the sauce and store it separately
Day-of
Follow the instructions in the recipe.
Garlic and ginger can be grated while the chicken cooks.
Suggested Sides
Cauliflower Rice
Broccoli
Rice