15 February, 2017
Paleo Hummus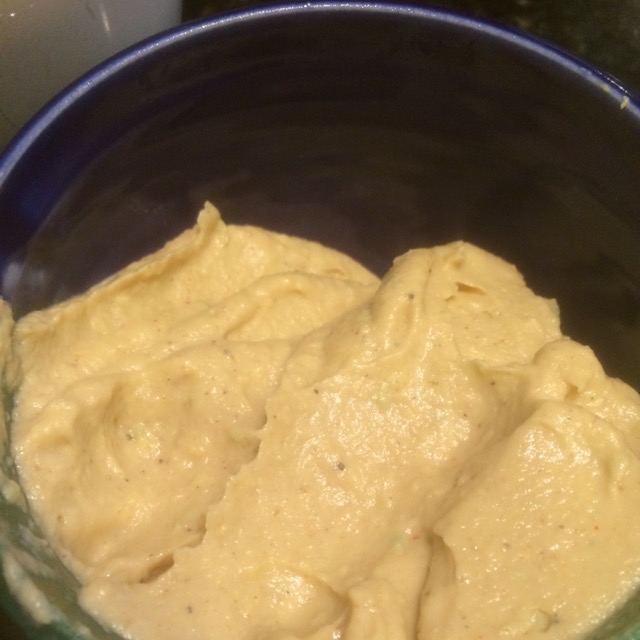 Posted in :
Appetizers
,
Recipe
on
by :
Nicole
I found this ditty in a book from the library – "Idiots guide to paleo slow cooking"
We had been working with cauliflower and this looked like a fun new way to get more veggies and be yummy!
Boy oh boy were we right and this recipe is beyond versatile! The original recipe was just the cauliflower oil and spices. From there i updated the "roasting" to include onion (to extend the amount of output), garlic (to get that mmmm roasted flavor), jalapeno (to add some nice kick), carrots (a nice way to add MORE veggies!)
All in all it's amazingly versatile – oh wait, i said that – well i mean it! Next I hope to do red pepper and maybe see if i can hide some spinach in there too!
Paleo Hummus
2017-02-14 20:05:49
Amazingly smooth and delicious hummus!
Ingredients
1 1/2 lb cauliflower (1 bag frozen cauliflower)

1 medium onion

1 jalapeno (remove seeds and stems for less heat)

1 tsp ground cumin

5 tbl evoo (I like chipotle and garlic for mine)

2 tsp sea salt

1/2 cup tahini

3-4 cloves garlic, minced

juice of 2 med lemons

1/4 tsp ground black pepper

1/4 tsp paprika
Add ingredients to shopping list
If you don't have Buy Me a Pie! app installed you'll see the list with ingredients right after downloading it
Instructions
In a 4-5 qt slow cooker, combine cauliflower florettes (and onion, garlic and jalapeno if using), cumin, 3 tbl evoo, (2 chipotle, 1 garlic) and sea salt, tossing with a wooden spoon to coat cauliflower completely
2. Cover and cook on high for 3-4 hours or until cauliflower is tender. Transfer to a food processor
3. Add tahini, garlic (if not already in the crockpot), lemon, black pepper and paprika and blend until a smooth paste. Slowly drizzle remaining 2 tbl evoo through the tube. Season with additional sea salt, lemon juice, or garlic as desired.
4. Transfer hummus to serving bowl, sprinkle with a dash of additional paprika and serve warm or cold.
Notes
So smooth and delicious!
Have you made this recipe? Let me know how it come out!
Print
Adapted from Idiots guide to paleo slow cooking
Adapted from Idiots guide to paleo slow cooking
Lazy Bear Foods https://lazybearfoods.com/
I absolutely love this recipe! I love that i can be done in a crock pot, that the outcome is beyond smooth, and it's veggies in a paste!
A pro tip i also love it keeping the oil drips off the counter with handy cozies. Check it out here!